ZAFAA Awards 2012 @ London Hilton on park lane Hotel, Mayfair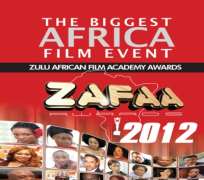 ZAFAA Awards 2012 will take place at the London Hilton park lane Hotel, Mayfair W1K 1BE. on the 20th of october 2012 @8pm-1am
Standard Tickets £100 ...with table for 10 at £800
VIP Tickets £200...with vip table for 10 at £1,700
Ticket Outlets:
Kumasi market 02077328125
Obalende Suya Peckham 02077037033
Tasty Woolwich 02088062114
Mama Calabar Wembly 02089022277
wazobia Hendon 02082021363
Embassy Restaurant 02086941951
Tomi Kitchen Deptford 02086949352
Purchase your Tickets now.
The Zafaa African Film Academy Awards (ZAFAA) was conceived primarily to honour outstanding achievements in African film making, to inspire c innovation and creativity and to recognise excellence in the wider entertainment industry.
In 2002 a group of African movie distributors in the U.K. encouraged the establishment of an award to recognise the work of film producers from the African continent. The success of this unique programme was a forerunner to ZAFAA and led to the launch of ZAFAA in 2006. ZAFAA has grown and developed since year-on-year and by 2009 it became the most prestigious and biggest annual African Film event outside of the continent of Africa.
This year the focus is on hosting Pan-African film industry events expanded to bring a more global focus with the objective of further developing:
¡¡Film technical, production and performance standards and capabilities
¡¡Cooperation and collaboration with the international film industry
¡¡Distribution channels across the continent of Africa and internationally
¡¡Multiple revenue streams across the entertainment sector
This initiative is aimed to assist in making the African film industry more globally competitive and also open new markets for the international film industry on the continent of Africa.
Zafaa Awards
...the Concept.
¡¡BEST LEAD ACTOR
¡¡BEST LEAD ACTRESS
¡¡BEST SUPPORTING ACTOR
¡¡BEST SUPPORTING ACTRESS
¡¡BEST DIRECTOR
¡¡BEST PRODUCER
¡¡BEST UPCOMING ACTOR
¡¡BEST UPCOMING ACTRESS
¡¡BEST AFRICAN FILM OF THE YEAR
¡¡BEST FILM BY COUNTRY/REGION
¡¡LIFETIME ACHIEVEMENT AWARD
¡¡SPECIAL RECOGNITION AWARDS
ZAFAA Awards was founded by Prince samuel Okafor Anwuzia.
For more information contact Theodoraibekwepr on 07943823292
www.theodoraibekwepr.com