NIGERIA'S INDEPENDENCE: I LOOK ON TO THAT DAY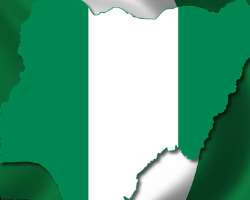 I look on to that day
When Nigeria, growing older
From strength to strength
Stabilizes in peace, unity and fraternity
I look on to that day
The struggle for leadership, so long hard
Will be connected to service, not mere grammar
For only the disinterested
I look on to that day
When corruption will be buried
In Service and penalties aptly imposed
Without a look on the face or post
I look on to that day
Nigerians will march on one footing
Against misrule and the leadership fears
The angry protest of a single commoner
I look on to that day
A Yoruba mother will tell her child
The beauties in a Hausa damsel
And the dexterity of an Igbo chap
I look on to that day
The blood of an Igbo man or the Kalabari
Will be Haram in the city centres
Of Kano, Maiduguri and Ogbosho
I look on to that day
The yell of a Christian in Yankari
And the trauma of a Muslim in Afikpo
Will be a history
I look on to that day
A pastor will tell his followers
The goodness of an Imam
And Imam, God's words in the Bible
I look on to that day
When a child from the Mosque
Leads Abia, and a Christian child
Leads Katsina with the merit of citizenship
I look on to that day
Abuja and Lagos will become
Everywhere in this nation
Even if only in the capitals
I look on to that day
Though, as were, peace isn't wholesome
In a single man, family or society
We live together without suspicion, fear or rancor
I look on to that day
How long! Will it eventually come?
Nay, only a living desires and hopes
And God's beside the hopeful, the hopeless
I look on to that day
Our hopes will no longer be dashed by ourselves
But that we hold on to the truth
And make this nation the desire of every living being.
I look on to that day!!!!!!!!!!!!!!!!!!!!!!!
Written By Muhammad Ajah
Disclaimer:

"The views/contents expressed in this article are the sole responsibility of the author(s) and do not necessarily reflect those of The Nigerian Voice. The Nigerian Voice will not be responsible or liable for any inaccurate or incorrect statements contained in this article."
Articles by thewillnigeria.com