Islamic Bodies Mourn, Pay Tributes To Adegbite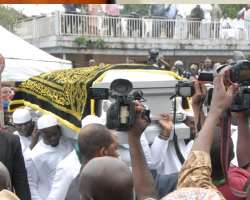 THE BODY OF THE LATE ALHAJI LATEEF ADEGBITE WAS COMMITTED TO EARTH AT HIS ABEOKUTA RESIDENCE. SEPTEMBER 29, 2012
ABUJA, September 29, (THEWILL) – Prominent Islamic associations all over the country have been mourning as well as praising the life of their mentor, the late Dr. AbdulLateef Adegbite, describing his death as a big loss to the Muslim community and to the nation at large.
Adegbite was Secretary-General, Nigeria Supreme Council for Islamic Affairs (NSCIA) until Friday when he died in Lagos at the age of 79.
The Muslim groups, in their various condolence messages, described him as an exemplary leader and a lover of peace, saying his death has created a big vacuum in the Muslim Community.
The Islamic groups include NSCIA, Nigeria Inter Religious Council (NIREC), Muslim Students' Society of Nigeria (MSSN), Muslim Rights Concern (MURIC), and Muslim Media Practitioners of Nigeria (MMPN).
Others are the Obafemi Awolowo University Muslim Graduates Association (UNIFEMGA), Muslim Ummah of South West Nigeria (MUSWEN), National Council of Nigerian Muslim Organisations in the USA (NCNMO) and National Council of Muslim Youths Organisations (NACOMYO).
"We have lost an illustrious son of Africa," said Prof Ishaq Oloyede, the national coordinator of NIREC who was also Adegbite's deputy at NSCIA. "As an academic, an erudite scholar and seasoned lawyer, a political figure, a religious leader and founder of many Islamic societies and groups, the religious community has lost a rare gem."
In his condolence message, MURIC national Coordinator, Prof Ishaq Akintola said Adegbite lived a life of devotion and piety.
"He promoted the golden qualities of religious tolerance and peaceful coexistence even at the peak of worst crises and irrational provocation," he said. "As a team player, he steered the ship of the Muslim Ummah with the dexterity of an egg-vendor and the skill of a juggler simultaneously spinning several breakables in the air, yet breaking none. Nigeria has lost a gem."
On behalf of UNIFEMGA, Dr Abdulwahab Egbewole, its national president, said Adegbite's death should be a lesson to everyone that we need to do our best to serve Allah and make our footprints in all the areas we may find ourselves.
"As a young boy, Dr. Adegbite invested his youth to champion Islam through MSS. He was a consummate administrator, committed academic, focused religious leader, concerned community leader and a bridge builder."
To the Nigerian Muslims in the Diaspora (NCNMO), Adegbite was a mentor to many Islamic organisations and individuals who always responded to invitations of Islamic and non-Islamic programmes.
In his tribute, MMPN Chairman, Abdur-Rahman Balogun described the demise of Adegbite as a personal loss, as he was a mentor and guardian to many Islamic groups both within Nigeria and outside.
NACOMYO said Adegbite's death is a big loss to the Ummah, as he was a beacon of hope for younger Muslims. According to Mas'ud Akintola, NACOMYO coordinator in Oyo state, Adegbite's death has created a big vacuum for the Ummah.
In the same vein, the Muslim Public Affairs Centre (MPAC) Executive Chairman, Disu Kamor said Adegbite used his positions and achievements in the worship of Allah, service of the Ummah and humanity.
"We pray that Allah forgives him, grants him the very best part of His al-jannah, and gives his family and Muslim community the patience to deal with the loss,: he added.
Adegbite, born into a strictly Muslim family in Abeokuta, Ogun State, on 20th March 1933, attended Methodist School, Abeokuta, and Kings College, Lagos on scholarship. He co-founded and was the first national president of the MSSN.
Until his death, he was the secretary general of NSCIA, and a member of NIREC. He served in many major national offices during his life, including as Commissioner for Local Governments and Chieftaincy Matters in the old western region of Nigeria.
In October 1976, he founded the legal firm of Lateef Adegbite and Co, as the principal partner, specialising in commercial and corporate Law.
He was one of the founders of the Abeokuta Social Club in 1972, and President of the Nigeria Olympic Committee from 1972 to 1985. Adegbite was Pro-chancellor and Chairman of the Governing Council of the University of Maiduguri from 1984 to 1990.
He became a member of the executive committee of Lagos State Chamber of Commerce and Industry, and Director of Industrial and General Insurance (IGI). He was awarded the honour of Commander of the Order of the Niger (CON), and holds traditional titles of Seriki of Egbaland and Baba Adinni of Egba Muslims. On 9th March 2011, President Goodluck Jonathan appointed him as Chairman of a Presidential Committee on Public Awareness on Security and Civic Responsibilities.