Nigeria rebels announce 'truce'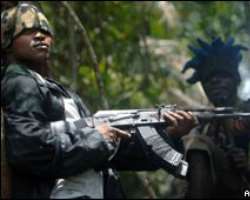 Attacks by the rebels have seriously disrupted Nigeria's oil industry
The main rebel group in Nigeria's Niger Delta is to observe a 60-day ceasefire in its attacks on the oil industry.
Mend - the Movement for the Emancipation of the Niger Delta - said the move was in response to the freeing of rebel leader, Henry Okah, on Monday.
Mr Okah was released from jail as part of a government amnesty; he'd been held for more than a year on charges including treason.
In a BBC interview he said he was proud of those who fought for his freedom.
The Mend ceasefire is set to come into effect from Wednesday, a statement said.
On Sunday, just hours before Henry Okah was freed, militants in speedboats attacked the main oil depot serving Lagos - well away from the usual area of operations in the Niger Delta.
Mr Okah said he regarded that attack as a gesture, welcoming him to freedom.
'Real issues'
But he said the Niger Delta needed a kind of peace process.
People there, he said, were fighting so that the government would recognise the poverty and injustice that exists.
Asked if he would favour a partial decommissioning of weapons, he said:
"Yes, yes, I would. But the government must start attending to our problems."
Numerous attacks by Mend on installations in the Niger Delta in recent years have seriously disrupted the Nigerian oil and gas industry.
Mend says it is fighting for a fairer distribution of the wealth from Nigeria's natural resources, but in the past the government has dismissed the militants as criminals.
In a bid to end the attacks, the government offered militants an amnesty three weeks ago.
Officials said any rebel willing to give up weapons by October would benefit from a rehabilitation programme, including education and training opportunities.
The government's critics say the amnesty is unlikely to work because the unrest is not a straightforward political struggle.