Alleged Sex Scandal With Tee Mac's 'Boys': 'Enemies Are After Me'--Shan George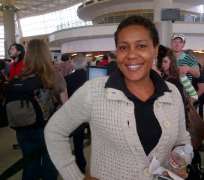 The name 'Shan George' is synonymous to controversies and acting. The name also has different identities to different people. While some see the bearer of the name as kind hearted being, some see the name bearer as one that allegedly has penchant dating younger lovers especially those in their 20's.
No doubt, Shan has swum in many controversial waters. Just recently, after a picture of herself with John Mikel Obi found its way on the internet, it was rumoured that she was dating the Chelsea footballer. CLICK AND READ IT HERE
Last week, news went round that Shan allegedly slept with four band boys of former PMAN president, Tee Mac Omatsola Iseli. It was also reported that she was warned by Tee Mac to stay off his (Tee Mac's) 21-year-old son, who the report said Shan was nursing a romantic affair for. CLICK AND READ IT HERE
In the report, Shan was contacted to get her side of the story before publication, but she (Shan) avoided to talk about it.
Reacting to the news story after publication, Shan disclosed that some people are pained that she is making progress. She claimed that when they (her haters) could not succeed with the rumour about romantically linking her with Mikel, they now shifted attention to Tee Mac's son.
She sent out a BlackBerry broadcast to react to the story. The unedited BB broadcast reads; "they've finished wit d lies about Mikel obi & I, now its Teemc's son. Hmmmmm, I must be making progress in life, & some1 is pained about it. U who's behind these Evil, God is watching!!"
Are they really after Shan George or she is just seeking attention?
>

Click the link below to go to...
Police arraign Nollywood actor over alleged robbery
Actress, Diamond Igwe hooks back with Switzerland lover
Crime activist: 'Enough is enough'— Omololu-Olunloyo
Gov. Fashola's LASTMA Allegedly Beats Danfo Driver To Death
2Face Celebrates Birthday In Style [Pictures]
Why I sent My wife Packing' – Rev Chris Okotie
Daring Act: 'Timid' Chika Ike Carries Live Snake Round Neck
Prime Minister Of Zimbabwe Morgan Tsvangirai, 60, Marries 35-Year-Old Lover, Elizabeth Macheka
Tonto Dikeh Is Not My Kind Of Girl--Kas**Launches Album October 1