Achievements Of US-Based Nigerians Excite Dabiri-Erewa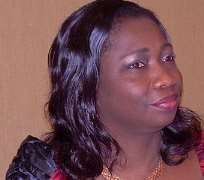 ABUJA, September 13, (THEWILL) – Chairperson of the Federal House of Representatives Committee on Diaspora Affairs, Hon. Abike Dabiri-Erewa has applauded the achievements of two Nigerians who were recently recognised by the government of the United States of America.
In a congratulatory letter to the duo, the lawmaker expressed the delight of the entire nation with their feat.
The two US-based Nigerians, who are employed by the American government, are Mr. Abel Alagbe, a University of Ibadan graduate who works at the US Department of Agriculture, and Mrs. Temilola Fatoyinbo-Agueh of the US National Aeronautics and Space Administration (NASA).
Dabiri-Erewa (ACN-Lagos) said the honour that the two people have brought to Nigerians reinforce her belief that Nigerians are great people, and she urged other Nigerians in the Diaspora to emulate their feat.
"You have done Nigeria proud with your achievements," she said. "Yours will definitely serve as a morale booster to other Nigerians out there."
She stressed the need to celebrate Nigerians portraying the good image of the country through their various achievements.
While Alagbe received the U.S. Presidential Volunteer Service Awards and Call to Service Award, Fatoyinbo-Agueh was honoured as one of the top US early scientists recognised by White House this year.
These recognitions are coming after many Nigerian students in the US were honoured for topping their class and schools, as American universities held graduation ceremonies earlier this year.
Another Nigerian student, Jekwu Anyaebuna, a graduate of University of Ilorin, also won the Commonwealth Africa Region Arts Prize earlier this year.
Alagbe, a 1986- graduate of Faculty of Technology from the University of Ibadan and a holder of a Master's Degree from the New York University Polytechnic in New York, is employed by the US government in the US federal agriculture department and works in the Food Safety Inspection Services unit (FSIS).
Alagbe was honoured on Wednesday at the US capital city of Washington DC at an event where the US Agriculture Secretary, Tom Vilsack, presented the awards in the presence of US government agency heads, members of Congress and other honoured guests.
Ms. Temilola Fatoyinbo-Agueh, on her own, was named by the White House among the 96 Distinguished Early Science award winners.