Adenuga, Governors, Supreme Court Justices Bag National Honours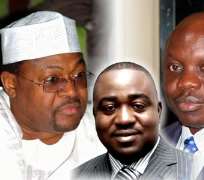 SAN FRANCISCO, September 09, (THEWILL) – Businessman Mike Adenuga, four current state governors; Dr. Emmanuel Uduaghan (Delta), Mr. Gabriel Suswam (Benue), Mr. Danbaba Fulani Suntai (Taraba) and Mr. Martin Elechi (Ebonyi); six serving justices of the Supreme Court of Nigeria (SON), Justice Mahmud Mohammed, Justice Walter Onnoghen, Justice Suleiman Galadima, Justice Bode Rhodes-Vivour, Justice Nwali Sylvester Ngwuta, and Justice Mary Ukaego Odili and several other Nigerians will be conferred with National Honours Award by President Goodluck Ebele Jonathan.
The ceremony is scheduled for September 17, 2012 at the International Conference Centre in Abuja and 149 Nigerians will be beneficiaries of the National Honours Award.
A statement on Sunday from the Office of the Secretary to the Government of the Federation said, "His Excellency, Dr. Goodluck Ebele Jonathan, GCFR, President and Commander-in-Chief of the Armed Forces, Federal Republic of Nigeria would conduct the 2012 National Honours Award Investiture of deserving Nigerians and friends of Nigeria."
Just like his fellow Forbes Billionaire Aliko Dangote, Mike Adenuga, the Chairman of Glo mobile will be awarded the Grand Commander of the Order of the Niger (GCON), according to the list of awardees released by government.
See full list below:

S/NO NAMES STATUS CLASS OF MEDAL
1 DR. MIKE ADENUGA, CON CHAIRMAN/CEO, GLOBACOM NIG LTD) GCON
2 HON. JUSTICE MAHMUD MOHAMMED SUPREME COURT JUDGE CFR
3 HON. JUSTICE WALTER S. NKANU ONNOGHEN SUPREME COURT JUDGE CFR
4 HON. JUSTICE SULEIMAN GALADIMA SUPREME COURT JUDGE CFR
5 HON. JUSTICE BODE RHODES-VIVOUR SUPREME COURT JUDGE CFR
6 HON. JUSTICE NWALI SYLVESTER NGWUTA SUPREME COURT JUDGE CFR
7 HON. JUSTICE MARY UKAEGO ODILI SUPREME COURT JUDGE CFR
8 HON. JUSTICE ANDREWS OTUTU OBASEKI (RTD) RETIRED SUPREME COURT JUDGE CFR
9 HON. JUSTICE KAYODE ESO (RTD) RETIRED SUPREME COURT JUDGE CFR
10 M. D. ABUBAKAR INSPECTOR GENERAL OF POLICE CFR
11 BRIG. GENERAL MOBOLAJI JOHNSON FIRST GOVERNOR OF LAGOS STATE CFR
12 CHIEF GABRIEL OSAWARU IGBINEDION, CON BUSINESS MAN/PHILANTROPHIST CFR
13 RT. HON. GABRIEL SUSWAM GOVERNOR OF BENUE STATE CON
14 DR. EMMANUEL UDUAGHAN GOVERNOR OF DELTA STATE CON
15 CHIEF MARTIN ELECHI GOVERNOR OF EBONYI STATE CON
16 ALH. DANBABA DANFULANI SUNTAI GOVERNOR OF TARABA STATE CON
17 ALH. AHMED MUAZU FORMER GOVERNOR OF BAUCHI STATE CON
18 SEN. VICTOR NDOMA-EGBA, OFR, SAN SENATOR CON
19 SEN. ABDUL AHMED NINGI, OON SENATOR CON
20 SEN. AYOGU EZE SENATOR CON
21 SEN. ZAINAB ABDULKADIR KURE SENATOR CON
22 SEN. AHMAD IBRAHIM LAWAN SENATOR CON
23 SEN. UMARU IBRAHIM TSAURI SENATOR CON
24 SEN. EMMANUEL BWACHA SENATOR CON
25 SENATOR BALA MOHAMMED MINISTER OF FCT CON
26 SEN. HAMISU MUSA FORMER SENATOR/MINISTER CON
27 SEN. BELLO JIBRIN GADA FORMER MINISTER CON
28 AMB. (SEN.) ADAMU AJUJI WAZIRI FORMER SENATOR/AMB. CON
29 SEN. EMMANUEL AZU AGBOTI POLITICIAN CON
30 SEN.MIKE AJAEGBO EXECUTIVE CHAIRMAN MINAJ GROUP CON
31 DR. AKIN ADESINA MINISTER OF AGRICULTURE CON
32 HAJIYA INA CIROMA FORMER MINISTER OF WOMEN AFFAIRS CON
33 ALH. KAWU BARAJE FORMER ACTING NATIONAL CHAIRMAN OF PDP CON
34 PROF. STEPHEN DEBO ADEYEMI BUSINESS MAN/FORMER MINISTER OF HEALTH CON
35 MR. TONY ELUMELU, MFR ACCOMPLISHED BANKER CON
36 DR. COSMAS MADUABUCHUKWU MADUKA BUSINESS MAN CON
37 MR CLETUS IBETO BUSINESS MAN CON
38 HON. MULIKAT AKANDE MEMBER HOUSE OF REP. OFR
39 HON. SULAIMAN KAWU MEMBER HOUSE OF REP. OFR
40 HON. HALIMS AGADA MEMBER HOUSE OF REP. OFR
41 HON. BASHIR ADAMU MEMBER HOUSE OF REP. OFR
42 CHIEF ANTONY ANI FORMER MINISTER OF FINANCE OFR
43 JUSTICE N. O. ADEKOLA (RTD) FORMER C. J. OF OYO STATE OFR
44 MRS. SARAH ADEBISI SOSAN FORMER DEPUTY GOVERNOR OF LAGOS STATE OFR
45 ENGR. EMEKA EZE DIRECTOR GENERAL BUREAU FOR PUBLIC PROCUREMENT OFR
46 OLUWOLE OLANIPEKUN, SAN LEGAL PRACTITIONER OFR
47 ALEX A. IZINYON, SAN LEGAL PRACTITIONER OFR
48 GODWIN JEDDY AGBA PUBLIC SERVANT OFR
49 O. OMONUWA, SAN LEGAL PRACTITIONER OFR
50 DR. PATRICK DELE COLE FORMER AMBASSADOR (DIPLOMAT) OFR
51 H.E. ALHAJI SANI ABUBAKAR DANLADI DEPUTY GOVERNOR TARABA STATE OFR
52 DR. IFEANYI OKOYE ERIC, mni CHAIRMAN/CEO OFJUHEL COMPANY OFR
53 BARR. DAN NWANYANWU, mni NATIONAL CHAIRMAN, LABOUR PARTY OFR
54 JOHN GOZEN GOBAK FORMER SSG, PLATEAU STATE OFR
55 DR. AMBROSIE BRYANT CHUKWUELOKA ORJIAKO EXECUTIVE CHAIRMAN OF SEPLAT PETROLEUM DEVELOPMENT CO. LTD OFR
56 ALH. MOH'D SANI ALIYU AUGIE COMMUNITY LEADER OFR
57 ALHAJI IBRAHIM K. ALIYU mni COMMUNITY LEADER/POLITICIAN OFR
58 ALH. MUHAMMADU INDIMI BUSINESS MAN OFR
59 DR. EMMANUEL SAMSON MIRI COUNTRY REP. CARTER CENTRE OFR
60 ALHAJI BASHARI AMINU DIRECTOR, G. CAPPA PLC OFR
61 ALH. ADAMU ALIYU DIPLOMAT OFR
62 ENGR. (MRS.) ESTHER GONDA PERMANENT SECRETARY OON
63 DR. EMMANUEL OKEREKE CHAIRMAN, AFRICAN LIBERATION PARTY (ALP) OON
64 ENGR. BALA NA'ADE ADAMU CONSULTANCY SERVICES OON
65 LT. COL. SHEHU IBRAHIM (RTD) SECRETARY BOARD OF TRUSTEES(I CARE WOMEN AND YOUTH) OON
66 HABIB BABA HABU CONSUL GENERAL OF NIGERIA TO NEW YORK OON
67 HAJIA MUHEEBA DANKAKA CEO, FARIDA BUSINESS VENTURE LIMITED OON
68 UCHECHUKWU S. OGAH BUSINESS MAN OON
69 ALHAJI SALISU MAIKASUWA CLERK TO THE NATIONAL ASSEMBLY OON
70 OTHMAN BABAYOLA MOHAMMED ADAMAWA STATE HOS OON
71 ALH. YAKUBU MUHAMMED RETIRED CIVIL SERVANT OON
72 DR ADESEGUN AKIN-OLUGBADE CONSULTANT (BANKING & FINANCE) OON
73 CHIEF ALEXANDER CHIKA OKAFOR BUSINESS MAN OON
74 PROF. CYPRIAN OKECHUKWU OKONKWO (SAN) COMMISSIONER NIGERIA LAW REFORM COMMISSION OON
75 DR. NIMOTA NIHINLOLA AKANBI DIPLOMAT OON
76 DR. TAHIR MAMMAN DG. COUNCIL OF LEGAL EDU. OON
77 MAJ. GEN. A. A. OLANIYI NIG. ARMY (MAJ. GENERAL) OON
78 AVM. TOMBOIYI DICK IRUENABERE NIG. AIR FORCE (AIR VICE MARSHAL) OON
79 REAR ADMIRAL EMERAKU IJIOMA NIG NAVY (REAR ADMIRAL) OON
80 PROF. CHARITY ASHIMEM ANGYA ACADEMICIAN OON
81 PROF. OLUFUNMILAYO FALUSI OLOPADE ACADEMICIAN OON
82 ALHAJI MOHAMMED KABIR AHMED DG PENCOM OON
83 HON. MUSA IBRAHIM AHMADU FORMER MEMBER, HOUSE OF REP. OON
84 ALHAJI MAHMOUD LAI ALABI ACCOMPLISHED BANKER OON
85 MRS. MARY GALADIMA EDUCATIONIST OON
86 PROF. (MRS.) ADENIKE ABIOSE ACADEMICIAN OON
87 MR. PIUS J. MAJOR FORMER PERMANENT SECRETARY OON
88 AMB.S. O. WILLOUGHBY FORMER PERMANENT SECRETARY OON
89 DR. PAUL BOTWEV ORHII DG. NAFDAC OON
90 MABEL ALABA AMONI-OKWUONU PUBLIC SERVANT OON
91 INYANG, SAMUEL EDWARD (MR) FORMER EXECUTIVE DIRECTOR, SHELL, BP & NDDC OON
92 BRIG. GEN. ANTHONY DANIEL ETUKUDO (RTD) FORMER CEO STANDARD ORGANISATION OF NIGERIA OON
93 MR. TIJANI YUSUF STATE HOUSE OFFICER OON
94 MR. MATTHEW OSAYABA AIKHIONBARE SENIOR SPECIAL ASSISTANT TO THE PRESIDENT(ADMIN) OON
95 ENGR. CHIEF JAMES BUKOHWO ERHUERO FORMER HOS/SSG OF DELTA STATE OON
96 MRS. SARAH ALADE DEPUTY GOVERNOR (CBN) OON
97 SULEIMAN BARAU DEPUTY GOVERNOR (CBN) OON
98 DR. KINGSLEY BOSAH CHIEDU MOGHALU DEPUTY GOVERNOR (CBN) OON
99 MR. ABU KAROFI RENOWNED GEOLOGIST OON
100 TECO BENSON ARTIST MFR
101 PROF.ABUBAKAR ADAMU RASHEED ACADEMICIAN MFR
102 ARCH. (CHIEF) DANIEL NWABUEZE DENNE NWANKWO ARCHITECT MFR
103 HRH. IGWE PETER CHUKWUMA EZENWA TRADITIONAL RULER MFR
104 HIS LORDSHIP, BISHOP MICHAEL CHUKWUNWEIKE OKONKWO RELIGIOUS LEADER MFR
105 RT.REV. GODFREY ANAYO CHUKWU AGUPUSI RELIGIOUS LEADER MFR
106 HRH. EDUN AKENZUA TRADITIONAL RULER MFR
107 HIS LORDSHIP, BISHOP PETER IMASUEN RELIGIOUS LEADER MFR
108 HRH. EZEUDO ABEL NWOBODO TRADITIONAL RULER MFR
109 PRINCE EZE MADUMERE PUBLIC SERVANT MFR
110 HAJIA DIJE BALA JIBRIN EDUCATIONIST MFR
111 HRM. OBA DR. VICTOR ADEMEFUN ADESIMBO KILADEJO TRADITIONAL RULER MFR
112 DR. ADEGOKE OLAOYE JACOB PUBLIC SERVANT MFR
113 HRM. OBA RAUF OLAYIWOLA OLAWALE TRADITIONAL RULER MFR
114 BITRUS PAM KIM PUBLIC SERVANT MFR
115 HON. (CHIEF) GODSPOWER UMEJURU AKE POLITICIAN MFR
116 DIG. AUDU ABUBAKAR, NPM (RTD) DIG (RTD) MFR
117 HRH. ALHAJI ADAMU ABARA GUMMI TRADITIONAL RULER MFR
118 ALHAJI UMAR AHMAD USMAN DAN ALI B/MAGAJI TRADITIONAL RULER MFR
119 PEACE ANYIAM OSIGWE ARTIST MFR
120 HRM ANSELM ODALOIGHE EDENOJIE II, JP (THE OJUROMI OF UROMI) TRADITIONAL RULER MFR
121 CHIEF DAVID NNOCHIRONYE ONYENWEAKU RENOWNED FARMER MFR
122 ARCH HARCOURT ADUKEH ARCHITECT MFR
123 CHIEF JOSHUA FUMUDOH INDUSTRIALIST MFR
124 OKECHUKWU NWADIUTO EMUCHAY CONSUL-GENERAL, SOUTH AFRICA MFR
125 CHIEF (DR) MICHAEL OLAWALE COLE, FNIM PRESIDENT NIM MFR
126 MUHAMMAD TAHIR ZAKARI CIVIL SERVANT MFR
127 BASORUN DOJA ADEWOLU SEASONED ADMINISTRATOR MFR
128 AUTA MAMMAN BUSA COMMUNITY LEADER/POLITICIAN MFR
129 HRM OBA KEHINDE GBADEWOLE OLUGBENLE TRANDITIONAL RULER MFR
130 ALHAJI ALHASSAN SULE GWAGWA POLITICIAN MFR
131 HON. ZEPHANIA B. JISALO COMMUNITY LEADER/POLITICIAN MFR
132 ALHAJI MOHAMMED ADAM POLITICIAN MFR
133 ALHAJI MUHAMMED BABA ABOKI COMMUNITY LEADER/ PHILANTROPHIST MFR
134 MOST REV. BISHOP CALLISTUS V.C. ONAGA RELIGIOUS LEADER/ PHILANTROPHIST MFR
135 ARCH. FERDINARD NWABUEZE AGU ARCHITECT MFR
136 MR. JELANI ALIYU DESIGNER WORLD FIRST ELECTRICAL MFR
137 LT. COL. M. A. SULEIMAN NIGERIAN ARMY MFR
138 ALH. YAKUBU HARUNA POLITICIAN MON
139 DR. USMAN ABDULKADIR MAIDUGU TRADITIONAL RULER MON
140 HAJIA MUSLIMAH KAMALDEEN RETIRED CIVIL SERVANT MON
141 ELDER EVANG SAMUEL MADUKA ONYISHI CHAIRMAN/CEO, PEACE MASS TRANSIT NIGERIA LTD/PHILANTROPHIST MON
142 ALHAJI IBRAHIM BUBA VOKNA FORMER ACCOUNTANT GENERAL ADAMAWA STATE MON
143 ELDER CYRIL CHUKWUDI NGEMEGWAI EDUCATIONIST MON
144 ADO HUSSAINI PUBLIC SERVANT MON
145 ABDULKADIR JIBRILU COMMUNITY LEADER MON
146 IGWE CHRIS OGAKWU TRADITIONAL RULER MON
147 AHMED ABDULLAHI PUBLIC SERVANT MON
148 LAWRENCE AYINDE OSAYEMI MAN MON
149 CHIEF (MRS.) OBALEYE OLAYINKA BUSINESS WOMAN MON