EL-Rufai Allocated Ekwueme House To Crony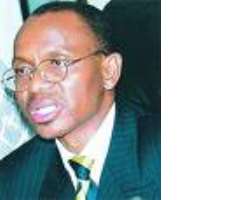 By Deji Wale Fadeyi, Abuja
It may take longer time for the former minister of the Federal Capital Territory malam Nasir El-rufai to get out of web of controversies.
El-Rufai may be in for a fresh trouble following a petition that he allegedly allocated a plot within the quarters that served as both residential and office accommodation for the first civilian Vice President Dr Alex Ekwueme, to his crony.
In a petition to the FCT Minister Senator Adamu Aliero, by residents of Rumbek Close in Wuse Zone 6, the ex- minister was alleged to have illegally allocating a space within the street to his close associate for development of a shopping complex.
They also accused the El-Rufai of distorting the city's master plan by allocating the land which is on the sewage line to his associate.
The petition which was singed by one Mr. Ben Ahiante an Assistant Director in the Ministry of Defence indicates that the area allocated by El-Rufai, also served as residence for members of the defunct Constitution Review Committee during General Ibrahim Babangida's administration.
Accusing the ex – minister of deliberately converting the street into a close in order to achieve his ill-motivated aim, the residents disclosed that the area was originally known as Mabonto street but was hurriedly changed to Rumbek close by the then administration to justify the said allocation which was however, questioned by the Federal Capital Development's Development Control Department.
The petitioners sought among other things; that the FCT Minister stop further construction work on the land, as well as direct its agencies not to approve any building plan relating to the space.
Insisting that the Minister should revoke the said allocation which according to them was done in error, the petitioners maintained that the area was a street not a close as the former administration made them to believe.
They said building house on the sewage line poses a great danger to their lives, hence the need to write the petition.
"We want the Minister to note that a major sewage area along Rubik close, in Wuse Zone 6 Abuja, has been illegally allocated by the El- rufai for the purpose of building houses".
However sources close to El-Rufai say its all part of the orchestrated efforts to tarnish the image of the former Minister and his good work n the FCT.