Jonathan Mourns Late Ethiopian Prime Minister, Zenawi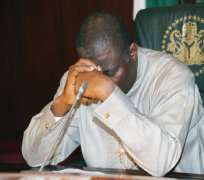 ABUJA, August 21, (THEWILL) - President Goodluck Ebele Jonathan on Tuesday mourned the passing away of the Prime Minister of Ethiopia, Meles Zenawi, saying he received the news with shock and sadness.
In a statement released by his special adviser on media and publicity, Dr. Reuben Abati, Jonathan described Prime Minister Zenawi's death as a major loss for Africa.
"He was a great African statesman who is also a friend of Nigeria's, a nation-builder and a great servant of the Ethiopian people. Prime Minister Zenawi will be remembered for his vision and integrity," read a part of the statement.
"He held strong convictions about establishing a just and prosperous society for his people, a cause to which he devoted his considerable energies, and which deservedly earned him respect and honour among a grateful Ethiopian nation."
The President acknowledged Zenawi's vision for a united and strong Africa, saying "his role, along with other African leaders, as the fulcrum of the African renaissance project, has ensured for him a prominent place in the annals of African history."
"The passing away of Prime Minister Zenawi at this time when Ethiopia and, indeed, all of Africa, stand to benefit from his wisdom and experience in building a stable and prosperous continent is a great loss that will be hard to remedy," the statement added.