Jonathan Begs Oil Marketers: Please Don't Punish Nigerians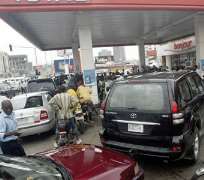 ABUJA, August 16, (THEWIL) – President Goodluck Jonathan on Thursday urged oil marketers to sheath their sword and dialogue with the Federal Government to find a lasting solution to the disagreement on fuel subsidy payments, in the interest of Nigerians.
Speaking in a telephone interview, Dr. Reuben Abati, special adviser to the president on media and productivity, conveyed the Presidency's appeal to the marketers, saying it was needless punish Nigerians by holding them to ransom over an issue that could be amicably resolved.
"I can assure you that government is not folding its arms; it is trying to meet with the marketers and reach amicable solution to this crisis," he said.
"But it is also important to appeal to the marketers not to punish Nigerians by hoarding the petroleum products; they have nothing to do with whatever is the cause of this latest crisis. It can be resolved and government is trying to ensure that is done as soon as possible."
The petroleum marketers had demanded to be paid all outstanding claims on petroleum subsidy or they would shut down filling stations nationwide within seven days.
But minister of finance and coordinating minister of the economy, Dr. Okonjo-Iweala said the Federal Government had been meeting its obligations to oil marketers in respect of all legitimate claims.
"Between April and May, 2012, Batches D/12 and E/12 involving 14 oil marketers with a claim of N17 billion were fully settled through the issuance of Sovereign Debt Notes and other relevant documentation," she said.
"Another N25.6 billion worth of claims were fully settled with the issuance of Sovereign Debt Notes based on the directive of the CME, which allowed for the continuity of the payments of all verified claims. In all, between April and August this year, in respect of 2012 PMS claims, Sovereign Debt Notes amounting to N42.666 billion have been issued to 31 oil marketers."
She added that only marketers recommended for further investigation by Aig-Imoukhuede's Presidential Committee were restricted from benefitting from the payments, as their qualification for the payment or otherwise will depend on the outcome of investigations.
Condemning the planned industrial action, she said, "Such tactics will not succeed because the Federal Government is determined to ensure that persons and organisations that did the wrong things do not get away with wrong actions and wrong behaviour. As we have communicated severally in the last few months, payment of marketers whose claims have been verified will continue to go on in a consistent and structured way which protects the best interests of the country.
"All marketers who have genuine issues to raise regarding their claims are encouraged to come forward for discussions or clarifications." It is clear that the strike was instigated mainly by marketers who were indicted by the Aig-Imoukhuede Committee which investigated fuel subsidy payments.
"Their obvious intention is to blackmail the Federal Government in order to escape sanctions for the crimes they have committed."
The action of the marketers is already hitting hard on FCT residents, as filling stations visited on Thursday refrained from selling fuel while black marketers in their premises and other locations were already engaging in brisk business, selling 10 litres of petrol for as much as N3000 to N3,500. In the rare cases where filling stations sold fuel, the queues were frustratingly long.