Plateau LG Records 300 Snake Bites Monthly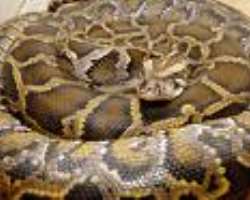 A health centre in Langtang North Local Government Area of Plateau State is almost turning into a snake bite treatment centre, recording over 300 cases of snake bites monthly.
According to statistics from Comprehensive Health Centre Zamko owned by the Jos University Teaching Hospital, over half of patients on admission are victims of snake bites.
An official of the Federal Ministry of Health, Dr. Nandul Dofa, who is involved in the management of snake bite cases at the centre said about 236 cases of snake bites were treated in April, 345 in May while over 300 had so far been treated this month.
He said only one death arising from the delay in getting the victim to hospital was recorded, assuring of the centre's ability to take care of victims once they are taken there before the venom does much damage to their system.
Dr. Dofa was, however, against any measure to wipe out snakes from the area, arguing that despite the danger they posed, they were useful to the environment.
"It's not fair to reduce the number of snakes within the environment because the snakes stabilize the ecology. They eat rodents, they eat frogs, they eat cockroaches. If you remove them, you'll give room to these to multiply," he said.
He said the danger associated with their high number of snakes in the area could be lessened by wearing cover shoes and getting prompt medical care when bitten.
Other officers at the centre complained of shortage of personnel, noting that they could do with more hands considering the volume of patients who also come from Adamawa, Gombe, Kaduna, Taraba and Nasarawa states.
|
Article source