Growth Doubts Dull European Shares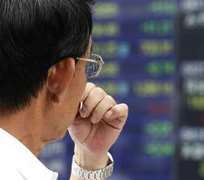 Weak Japanese economic data on Monday tempered European investors' optimism about ECB plans to tackle the euro zone crisis, with stocks down slightly and the euro flat.
Japan said its economy grew 0.3 percent in April-June from the first quarter, half as much as expected, as Europe's debt crisis weighed on export demand and consumer spending began to lose momentum.
The FTSEurofirst 300 index of top European shares was down 0.18 percent shortly after trading began, German government bonds - traditionally favored by risk-averse investors - were virtually motionless and the euro was also little changed at $1.2288.
Europe's stock markets have enjoyed one of their strongest runs in months over the last two weeks after European Central Bank President Mario Draghi said the bank was "ready to do whatever it takes to preserve the euro".
This raised hopes of heavy bond buying to help Spain and Italy reduce their borrowing costs. However, uncertainty over the timing and details of this aid remains, and Belgian ECB member Luc Coene raised his concerns over the weekend that a new wave of purchases could once again take the pressure off governments to repair their finances.
Italy is set to auction 8 billion euros of 12-month treasury bills on Monday.
Investors will be also be watching July U.S. retail sales and consumer prices data, along with the euro zone's second quarter gross domestic product reading on Tuesday, which is expected to show a contraction.
Although there is widespread recognition that struggling parts of the 17-country bloc are in for an extended spell of economic gloom, fears are now that the latest bout of turmoil will push even powerhouse Germany back into recession.
REUTERS