Clinton Promises America's Partnership With Nigeria On Terrorism, Reforms, Others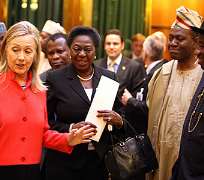 ABUJA, August 09, (THEWILL) - The United States will continue supporting Nigeria's battle against terrorism by renewing its offer to help in insulating the country's borders against foreign terrorists affiliated to the Boko Haram Islamist sect.
U.S. Secretary of States, Hillary Clinton, who is in Nigeria as part of an 11-day Africa visit, made the promise to President Goodluck Jonathan during a 20-minute closed-door meeting at the Presidential Villa.
Clinton arrived at the Presidential Villa at about 3:54p.m. and left at about 6:15 p.m., after also privately meeting national security adviser (NSA), Colonel Sambo Dasuki and the service chiefs.
She also met key cabinet ministers, such as minister of finance, Dr. Ngozi Okonjo-Iweala; minister of foreign affairs, Gbenga Ashiru; minister of power, Bart Nnaji; attorney general of the federation, Muhammed Adoke; minister of petroleum resources, Dieziani Alison-Madueke; and minister of state III, Nurudeen Muhammed.
Although details of all the meetings were not released to State House correspondents, THEWILL can report that the U.S. is interested in helping the country monitor movement of goods, particularly weapons and explosives smuggled to the Islamic sect through the Nigeria-Cameroon and Nigeria-Niger borders.
U.S. is equally willing to help Nigeria develop mechanisms for tracking and determining likely allies of the Boko Haram sect, and developing an intelligence coordination centre for information integration through the establishment of a 'comprehensive programme in the North.'
At a joint press briefing, President Jonathan commended Barack Obama and the Secretary of States for their interest in Africa and Nigeria in particular, observing that the relationship between the two countries has improved under Clinton's reign as Secretary of States.
"The support of the U.S. has been helping to stabilise this country," Jonathan said. "When we insisted we must conduct a free and fair election as a way of stabilising our democracy, U.S was very supportive, giving us moral support in addition to technical support to INEC."
Responding, Clinton expressed gratitude with Nigeria's recognition of America's commitment to its partnership with Nigeria.
"We consider it absolutely vital to our bi-national commission, which, as you have mentioned, has helped us to expand and deepen our cooperation on a full range of issues," she said.
"We are working on economic matters, the improvement of productivity in agriculture, education and health, security, diversification of your economy and so much more. We intend to remain very supportive on your reform efforts … We want to work with you, and we will be by your side as you make the reforms and take the tough decisions that are necessary."
Clinton has been touring Africa since 31st July, and has already visited Senegal, Uganda, South Sudan, Kenya, Malawi and South Africa. She will make a brief stopover at Benin Republic and also attend the funeral of late Ghanaian president, John Atta Mills.