Lagos Sends NURTW, Urchins Out Of Motor Parks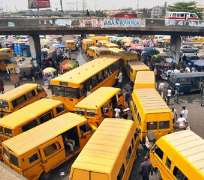 LAGOS, August 03, (THEWILL) – Activities of the National Union of Road Transport Workers in motor parks across Lagos have been outlawed, the Lagos State Government has said.
The ban, announced on Friday, is part of the high points of the newly signed Road Traffic Law in the state.
"The government recognises the right for NURTW members to associate. But it believes that the motor parks should be made easy for those who want to carry out their business of commuting in the state to do so without interference," the state's commissioner for transportation, Mr. Kayode Opeifa said in an interaction with newsmen that was also attended commissioners of justice, and information and strategy, Mr. Ade Ipaye and Aderemi Ibirogba respectively.
"Henceforth, union activity is no longer allowed in all the garages in the state. What they need to do now is to operate the way other unions in the state do, by using a recognised office."
In addition, he disclosed that collection of money from commuters by members of NURTW has been proscribed.
"No union member should be seen on the roads collecting money from transport operators. It is illegal and this is how it is contained in the white paper adopted by the state government," he said, adding that drivers and conductors in the city will be required to wear uniform in order to improve the safety of lives.
Continuing, he said: "Government will soon commence the re-registration of motor parks across the state. The situation where people just park vehicles in some areas and converting them to motor parks is now illegal. There will be differentiation between motor parks, garages and bus stops."
Collection of money by NURTW members and urchins has been a persistent source of violence on the streets of Lagos, where it is believed that the state government has not been offering enough protection to bus drivers.