No Conflict In our Jobs, Say Abati, Okupe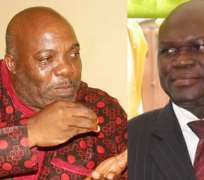 ABUJA, July 31, (THEWILL) – Last week's appointment of Dr. Doyin Okupe as President Goodluck Jonathan's senior special assistant on public affairs will bring no conflict to a department hitherto seen as belonging to Dr. Reuben Abati, the special adviser to the president on media and publicity.
Both men made this clear on Tuesday during a briefing with State House correspondents, where the latter formally introduced the former to the media and attempted to rid the public of speculations of conflict of interests in their roles.
While Okupe admitted that the growing power of the opposition was a factor that influenced his appointment and that the new information management team would engage the public and the opposition to deepen their understanding of government policies are, Abati added that the team would be working to advance the transformation agenda of the president, describing the schedule of their duties as complementary and exclusive.
"There is no conflict in our information management process," Abati said. "One thing we both have in common is the passion for Jonathan's transformation agenda; and we believe in President Jonathan, that he deserves the support of all Nigerians."
He analysed Okupe as a "man with a lot of experience, politically savvy, very amiable and very highly respected within the society," enthusing that his appointment would enrich the information management system of the president.
"Our responsibility, in terms of how this administration's information process is managed, is to make sure that we engage the public robustly; and moving forward, our team remains very strong," he added.
"There is no conflict at all; we are working together as a team and you are not going to see any kind of friction. If anything, you are going to see us engage the public with a lot of coherence."
Speaking, Okupe revealed that while Abati would remain the official spokesperson of the president, issue policy statements emanating from the president and handle any issue regarding the president's publicity, his own responsibilities would simply be public affairs.
He returned Abati's kind words, describing him as a younger brother with whom he had shared views and visions.
"He has been a tremendous pillar of support for me even while I was here in the villa. His place in history is a different one. He comes with a lot of integrity and honour. I have a lot of respect for him."
Of their jobs, he said, "What you will see is a synergy, not conflict. Somebody said Okupe has been hired as an attack dog, if President Jonathan hires a 60-year-old man as attack dog, then he is employing a weak attack dog. I am not an attack dog. My job basically is public advocacy.
"From time to time, what you can only find is a unity of purpose between my good self and my younger brother here. We are going to work together. Like he said, what we share is the passion for President Jonathan."