Lady H. T Oburoh: A Woman From Westminster to Waterloo now West Africa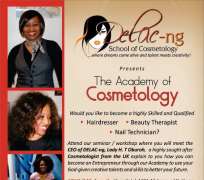 It was the Christian bible that says in the book of Proverbs 10:4 that a slack hand causes poverty, but the hand of the diligent makes rich. This is distinctive of Lady H. T Oburoh. To her, integrity, respect, perseverance, commitment, collaboration, transparency and accountability are the elements of life, but most especially, in doing business.

The fair complexioned Nigerian UK-based IT Professional and Cosmetologist is the Chief Executive Officer (CEO) of De-Lady Academy of Cosmetology (DELAC), and she has been away from home for over 20yrs. If power is in beauty, she is saddled. Her voice and smile are sword. Her magnificent beauty could spark amorous gesture from even a celibate.

Lady Oburoh told me in a mail, as a matter of fact, that her problem for not coming back to Nigeria this long to stay and probably establish was not that she is not passionate about Nigeria, but for the threatening business atmosphere in Nigeria further endangered by the era of militancy and other unnecessary provocations that have happened in our beloved country.

"There is no soft landing spot for some of us who are overseas, eager to come back home with our mammoth wealth of knowledge to invest in our ancestral country – Nigeria," she told me. This kind-hearted woman whose beauty is nature's coin said that she has a scheme to establish a first of its kind national Cosmetology Academy. She does not sound waning, but optimistic that her project if birthed in Nigeria will help unburden the spate in the increasing population of Nigerian youths and adults loafing away without a job.

In her words: "This will offer a route to harness fresh talents, develop/polish skills and provide employment opportunity, thereby opening doors to a better future for qualified individuals."

What does her project have in stock for a layman's understanding? She said, "Cosmetology essentially comprises Hair, Nails and Beauty services." What does she have for those whose consumption or occupation align with the business of this beauty queen? She warns that due to the vast quest "to survive in Nigeria", opening salons in Nigeria without the "authentic" prerequisite professional training, many of the salon operators offer services that "can be considered dangerous to the health and safety of clients."

In her words: "Some of these salons are providing services without the underlying knowledge of the interaction between hair products and the hair itself; between beauty products and the skin; and between nail products and the nails, as well as the after effect of wrongful usage of these chemicals."


How did she come to know about this claim? She said that she came to understand this following "an informal feasibility study that involved a visit to a few salons in a couple of States she carried out on a trip to Nigeria in 2009. According to her, the study also indicates that there are no set standards or basic information that allows clients to make informed decision on the choice of services being offered."

Lady Oburoh hopes that this initiative will boost the Nigerian economy; by encouraging hair and beauty manufacturing companies to produce quality and approved products that will be used in Nigeria. "This will reduce the need for regular import of quality products from abroad, therefore enhancing the clarion calls to promoting Nigerian made goods in Nigeria," she said.

Without doubt, there are perceived immeasurable benefits that this initiative will offer Nigerians. For Lady Oburoh, this will create new awareness of quality expectations in salons in Nigeria. The service her firm will offer will also include drastic crusade in building up the image of salon business in the country and equipping individuals or group who must have undergone training in De-Lady Academy of Cosmetology (DELAC). Another area she is looking at is how the salon business can provide and generate revenue for the empowerment of the local communities through the local government authorities.

Courses DELAC Offers:

The Academy will offer courses that will run between 6–9 months, in a full time capacity. Albeit, there are short courses for people who are experienced in the salon profession but want a refresher course to update their skills. DELAC will offer national certificates – National Vocational Certificate (NVC) Levels 1– 3, and National Innovation Diploma (NID), and approved DELAC certificate for individual units of training, for example, DELAC Certificate of Achievement in Manicure/Pedicure; DELAC Certificate of Achievement in Make-up... DELAC will also adopt the curriculum of ITEC UK, where a feasible curriculum does not exist. DELAC will undertake to secure affiliations with reputable organisations in the UK for continuous quality maintenance and educational improvement.

Why is she doing this? She said that she is doing this "In our bid to give back to society, we also aim to support the government by giving scholarships to prospective students from low income families the opportunity to start a career in order to help their families." DELAC will also have a professional salon where it will provide employment to successful graduates from the establishment and will also provide Student Support Service on site to enable graduates to be placed in salons that meet the expected standard of requirement to enable them to make the most of their new found skills. Notwithstanding, apart from being the Chief Executive Officer (CEO) of DELAC to be established in Nigeria, Lady Oburoh currently owns/runs a Hair, Nails and Beauty Salon in the heart of London called De-Lady Salon.

Lady Oburoh's Qualification:

The well-created woman of substance holds a Bachelors Degree in Computing from London South Bank University, UK, and a Masters Degree in Information Systems Management from the same University, and has worked as an IT Professional for over 12years, but she ventured in to make a career change into the world of Hairdressing, because it is a passion she cherishes so much. Her stints are high-minded. Going across various courses she has undertaken through college attendance and from industry experts in the Hair and Beauty Industry. Updating herself, she currently holds two NVQ (National Vocational Qualification) Level 3 Certificates in Hairdressing; NVQ Level 2 and IHBC (International Health and Beauty Council) Diploma in Beauty Therapy Level 2 and 3, NVQ Level 2 Nail Services; NVQ Level 2 Customer Services; and NVQ Level 3 Certificate in Retailing. She also has an NVQ Level 4 qualification to teach her skills to individuals and groups. These are all in the UK.

It will be most favorable if the government of the Federal Republic of Nigeria under the hopeful leadership of Dr. Goodluck Jonathan will locate DELAC and accord it the attention it most desires. Hence, DELAC will create opportunity to establish a Health and Safety Unit incorporating Quality Control for the health and safety of all individuals who have to come in contact with chemical services provided in salons.
Disclaimer:

"The views/contents expressed in this article are the sole responsibility of

Odimegwu Onwumere

and do not necessarily reflect those of The Nigerian Voice. The Nigerian Voice will not be responsible or liable for any inaccurate or incorrect statements contained in this article."
Articles by Odimegwu Onwumere