Jaja Denies Admitting Jonathan's Guilt Of Impeachable Offence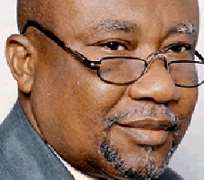 ABUJA, July 27, (THEWILL) - Deputy national chairman of the Peoples Democratic Party (PDP), Dr. Sam Jaja on Friday said his views on the disagreement of positions between the Executive and the Federal House of Representatives on the implementation of the 2012 budget during Thursday's press conference in Abuja was seriously misrepresented by a section of the media.
Jaja explained that the PDP neither said it would not compel the House of Representatives to drop the impeachment threat on the president, which does not exist in the real sense, nor admitted that the president committed an impeachable offence as reported by one of the several media organisations that covered the briefing.
"I have noted quite an avoidable misrepresentation of the position of our great Party as contained in my address to the media yesterday. For the avoidance of doubt, our position is that the Peoples Democratic Party was founded on unbending democratic principles and thrives on irreducible democratic practices that do not conduce to unnecessary imposition of views," read a statement signed by Jaja.
"Our manifesto is crystally clear on our thrust as a broad and issues-based political party whose essence orbits in the unrestricted, robust debate of crucial national issues whether in the Parliament or in the larger Nigerian society."
The party said its position plays a critical role in getting the best out of the country's democracy, expressing its happiness that the PDP-dominated National Assembly had been sensitive to this.
"On the other hand," the statement continued," President Jonathan's unimpeachable deference to market place of ideas as demonstrated in his unequaled commitment to the separation of powers and the unabridged rights of Nigerians to unhindered electoral choice — demonstrated in successive governorship elections — stem from a resolve of a leader that the foundation of good governance must not be assailed. We are indeed proud."
According to the PDP, the issues bordering on the implementation of the 2012 budget are simply that of reconcilable grey areas. It maintained that the PDP-led House of Representatives had never tabled an impeachment motion on the matter.
"It is for this reason that I made it abundantly clear in my statement to the press that both the president and the House of Representatives have reasonable positions on the issue of budget implementation, which we as a party and the guardian of both the Executive and the Legislature can intervene on, if need be," Jaja added.
PDP then expressed confidence in the abilities of the president's special adviser on National Assembly to handle the matter, as always. It also urged Nigerians to disregard the report, saying it was "obviously intended to cause distraction from the firm confidence of the PDP in the synergy of the two arms of government" which it fully controls, in implementing its manifesto and delivering on its electoral promises to the people.