Gabriel Afolayan Releases Kokoro Ife (Love Bug) Music Video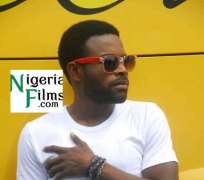 Multiple awards winning actor, Gabriel Afolayan has finally launched himself into the Nigerian music scene with the release of the music video of his hit single, Kokoro Ife (Love Bug). The son of film legend, Ade Love, has blended his good acting skills with his music artistry.
G-Fresh, as he is fondly called by friends, released the music video, which was shot and directed by Katung, as a way to help him promote the song and establish him as a musician. The video saw Gabriel infuse some bits of his acting skills into the music video.
He has also announced that a new single will follow shortly and that he will not disappoint his fans. Gabriel reiterated that his venture into the music industry will not affect his acting career in any way as he will always continue to make movies that will keep them at the edge of their sits while he continues to establish himself in the musical terrain.