Morgan Stanley Expects 7 Percent Staff Cut On Weak Outlook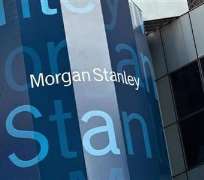 Morgan Stanley plans to cut more staff this year and expects headcount to fall by 7 percent, or 4,100, as it prepares for weak economic growth globally and low trading volume, the investment bank said on Thursday.
Morgan Stanley, reporting a 24 percent decline in second-quarter revenue, is the latest bank to sound gloomy notes about the economy. Banks have had to cope with companies' reluctance to issue debt and equity, the European debt crisis, and slow stock and bond trading.
But Morgan Stanley also has had its own difficulties, including the threat of a debt rating downgrade, which clobbered its bond-trading business during the second quarter. The bank also faced broad criticism for its handling of the Facebook initial public offering: The shares sank 27 percent on their first day of trading.
Moody's Investors Service downgraded the bank less than many investors had feared, and Morgan Stanley's bond trading business has picked up in the third quarter, but economic headwinds still make the financial services sector difficult, Chief Financial Officer Ruth Porat said in an interview.
Revenue in all three of Morgan Stanley's main businesses -- investment banking, wealth management and asset management -- dropped in the second quarter.
The bank's bond trading business, which typically contributes about a fifth of Morgan Stanley's revenue, saw a 60 percent decline, excluding accounting adjustments, posting revenue of $770 million.
Morgan Stanley reported second-quarter earnings that generally beat what many analysts had expected, but the bank's gloomy outlook weighed on its stock. The shares were down 4.4 percent to $13.37 in late-morning trading.
The bank posted a profit of $564 million, or 29 cents per share, compared with a loss of $558 million, or 38 cents per share, a year earlier. Morgan Stanley also lost money in the first quarter.
For much of the second quarter, investors fretted about whether Moody's would downgrade Morgan Stanley by three notches, which would leave the bank's rating just two steps above "junk" status. In the bond trading business, clients are often reluctant to work with counterparties that seem less than rock-solid.
The downgrade came in late June and was not as bad as many investors had feared - the bank's main rating was cut to "Baa1," three steps above junk.
But for the second quarter the damage was done. Bond trading is a particularly important area for Morgan Stanley, and the business has lagged rivals for years. The threat of a downgrade in the second quarter did not help the bank's efforts to rebuild the group, Porat told Reuters.
"We spent a lot of time with clients and counterparties addressing questions they might have - and that's time that otherwise would have been spent focusing on getting new business," she said.
"As the quarter wore on, in particular as Moody's extended the timeline for making its decision, it really just put more weight on the whole situation. Clients seemed to take this wait-and-see approach."
The bank has had to post $3.7 billion of collateral since the downgrade, but business has improved and the pace of collateral calls has slowed since late June, Porat said in an interview. In July, the bank has had to post just $800 million more collateral.
"We're certainly seeing that the weight of that Moody's decision has lifted," she said.
Overall second-quarter revenue fell 24 percent to $6.95 billion. The total included a $350 million gain from changes in the value of Morgan Stanley's debt relative to Treasuries, known as a debt valuation adjustment, or DVA.
Revenue from other businesses also fell amid weak trading and dealmaking, but not as sharply as fixed-income trading. Merger advisory revenue was down 51 percent to $263 million, and equity and debt underwriting revenue dropped 34 percent to $621 million. Equity trading excluding DVA fell 36 percent, to $1.1 billion.
The 2011 second-quarter results included a charge linked to the bank's conversion of preferred stock owned by Japan's Mitsubishi UFJ Financial Group into common stock.
REUTERS