When Yoruba Actor, Golugo Couldn't Pay For Food At Lagos Restaurant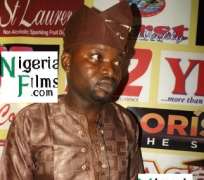 There is no doubt that many things come with being a celebrity. Most times, as a public figure, one's life becomes a public commodity. Both the press and the fans that look up to such celeb as a role model are interested in knowing what is happening in a celebrity's life.
For popular Yoruba comic actor of Muniru Ati Ambali Yoruba movie fame, Adekola Tijani well known as Golugo, his sudden rise in the movie industry may have gotten him into this gist.
As a source told Nollywoodgists.com, Golugo was at a popular fun place at Ikeja on Wednesday, June 20, 2012 at about 3:45pm with a young robust lady he came with along with. He was also at the place with two other people.
When the said lady ordered for a snack that worth about 250 Naira, Golugo raised an eyebrow saying that he had no such money to pay for what the lady ordered. We learnt that the young lady had earlier ordered for a drink worth 200 Naira before she ordered for the snack. The lady was said to have gone ahead to get the snack and told the comic actor to pay. She was later said to have left the restaurant without Golugo.
When it was now time for Golugo to get something to eat for himself, he called on the attendant to get him Eba with Egusi soup and chicken but he insisted that a 'draw' soup (like Okra, Ogbono or Ewedu) be added to the Egusi soup. The attendant told him that he would have to pay for the extra soup, which would now cost N1,000.
While he was negotiating the price, the two others he came with made their intentions known to him that they would also eat something. Golugo then called the waiter back that he wasn't interested in the food anymore. His excuse was that someone was waiting for him somewhere else.
The busy body amebor told Nollywoodgists.com that the actor left with the two others to a 'mama put' canteen around the area to order for what he could afford. He was later spotted using tooth pick to do justice to the munched meat from the 'mama put' joint he went to fill his tank.
Hmm, Who says celebs can't play a fast one when necessary?
Click the link below to go to...
ABOMINATION: 2 Top Nollywood Actresses In Lesbianism Act Revealed
Obi Emenloye Keeps Mum On Omotola, Genevieve, Halle Berry Movie Role Rumour
P-Square's Mum's Body Arrives Lagos From India
PATIENT OZOKWOR: THE SUPERCOP (PHOTOS)
Gov. Fashola confronts senior military officers driving on BRT lane