Coca-Cola Global Reach Offset European Weakness In Q2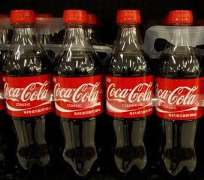 Coca-Cola Co reported a higher-than-expected quarterly profit on Tuesday, as rising consumption of its drinks in emerging markets offset declines in Europe, sending its shares up more than 2 percent.
The world's largest soft drink company, maker of Sprite, Minute Maid orange juice and vitaminwater, said second-quarter sales volume rose 4 percent, with North America growing 1 percent and international up 5 percent.
Volume jumped 12 percent in Eurasia and Africa, 8 percent in the Pacific region and 3 percent in Latin America. It fell 4 percent in Europe due to the economic slowdown and cold weather.
Still, the company gained market share on a global basis.
"It looks like they had a good quarter in spite of the European woes. They continue to grow," said Gary Bradshaw, portfolio manager at Hodges Capital Management in Dallas. "I'm still extremely optimistic."
Bradshaw said Coke is now the top holding of the relatively new Hodges Equity Income Fund, which is worth about $16 million.
Performance in Europe was worse than expected, and there were slight slowdowns in China and Mexico, said Bernstein Research analyst Ali Dibadj. But overall, it was better than expected.
"You have to consider the environment that we're in," Dibadj said. "This is a company that through all this macroeconomic stress, continues to grow fairly well with relatively little volatility."
PROFIT BEATS
Net income was $2.79 billion, down from $2.80 billion a year earlier. Net earnings per share rose to $1.21 from $1.20 because of fewer shares outstanding.
Excluding items, earnings were $1.22 per share, topping the analysts' average estimate of $1.19, according to Thomson Reuters I/B/E/S.
Revenue rose about 3 percent to $13.09 billion. Analysts had expected $12.98 billion.
The company, which does business in more than 200 countries, said foreign exchange rates shaved 4 percentage points from net revenue.
Price increases helped to boost sales.
Costs rose 5 percent in the quarter, due to "moderately" higher commodity costs. Still, Coke lowered its commodity cost forecast to a rise of $300 million this year, from its previous $350 million to $450 million increase.
Coke shares rose 2.4 percent to $78.30 in morning trade.
REUTERS