Senate Queries NDLEA For Misapplying N184m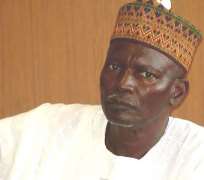 ABUJA, July 11, (THEWILL) - The Senate Committee on Drug, Narcotics, Financial Crimes and Anti-corruption on Wednesday accused the National Drug Law Enforcement Agency (NDLEA) of abusing more than N184m raised by the agency through its online recruitment.
The committee stated this during a public hearing on the deployment of NDLEA recruits without training.
Chairman of the committee, Senator Victor Lar expressed concern that the sum realised from the online recruitment was misapplied. He also decried that the recruits did not get adequate training before they were deployed. The committee also noted that the period of training was too small to give adequate tutelage to personnel who were expected to bear arms.
In his reaction, NDLEA chairman, Mr. Ahmadu Giade said the agency used the proceeds from the online applications, totalling N184.9million, to train the recruits for four months before their deployment to various states.
He disagreed with the Senate committee over its position that the fund was misapplied, claiming that the 2,996 newly employed personnel deployed to states did not undergo the mandatory six-month training in its academy due to unavailability of funding.
He said a total of N780million was required to train the personnel and because there was no funding, it carried out a four-month induction for the new recruits at all the State Commands across the country.
He maintained that the induction given to the personnel was appropriate to introduce them to the use of arms, but added that they would still be mentored until they are capable of handling sensitive assignments.
"The new personnel are still undergoing mentoring. The Commands have directives not to assign to them any sensitive assignments. They are not to be given critical assignments that may involve the use of arms," he said.
He also refuted the incident involving the indiscriminate killing of a Nigerian in Benue State by untrained NDLEA personnel.