I Can Apprehend Fuel Subsidy fraudsters In Just One Week - Ribadu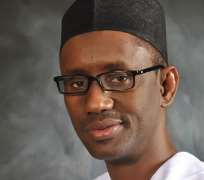 ABUJA, July 10, (THEWILL) - Erstwhile chairman of the Economic and Financial Crimes Commission boss, on Tuesday bragged that a week is enough time to identify beneficiaries of the fuel subsidy scam, if the federal government were to give him the task.
Speaking during a visit to the Nigeria Electricity Regulatory Commission (NERC) in Abuja, Ribadu identified failure of leadership as the core reason for all regulatory irregularities in the country, saying the Petroleum Products Pricing Regulatory Agency (PPRA) is to blame for corrupt practices in the management of the Petroleum Subsidy Fund (PSF). He expressed disgust that such an agency could release funds without proper accountability.
"Look at the energy sector and see what we are talking about. Most of the problems we are talking about today, including the subsidy scam, are due to failure of regulation or regulators," he said. "If PPPRA had lived up to expectations we would not be having these problems. Nobody will take one penny from government if those agencies did not allow them."
Describing the task as easier than it has been painted, he said the simple thing to do is to check PPPRA's letters of credit and bill of landing; and all those who benefited from the subsidy would be brought to justice.
"If I were to handle this subsidy I will just catch PPPRA. I will bring out each one of them; and in one week, I will get the people responsible because the gatekeeper is the one in charge," he said.
"I will just get them because nobody will make one penny from the subsidy unless PPPRA allows it. For every single person that benefited from subsidy, I can assure you that public officers gained three times."
He used the occasion to drum support for the NERC Chairman, Dr. Sam Amadi, but warned that he would need to display enormous "courage" if he would truly reform the power sector.