SHOGGY TOSH WON THE BEST TV PRESENTER & SIMPLYCHRYSOLITE WON THE BEST BAND / GROUP AT THE 2012 AFRICA GOSPEL AWARDS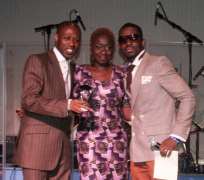 On Saturday 7th July 2012, SHOGGY TOSH picked up 2 prestigious gongs; one for himself as the BEST TV PRESENTER & the other on behalf of SIMPLY CHRYSOLITE as the BEST BAND | CHOIR | GROUP AT THE 2012 AFRICA GOSPEL AWARDS.
The Olympic edition AGMA awards was held at the Hippodrome, Golders green, London and the glamorous hall was packed with over 3,000 guests. Shoggy Tosh had some VIP guests with him on the night routing for him & Simply Chrysolite - Sone Aluko (Nigerian International & Rangers FC), Bee Dee (A Nigerian gospel star), Efan Ekoku (Ex Nigerian International & Norwich FC) & Sarah Claxton, Olympian ex British record holder for the 100m Hurdles.
The awards kicked off at 5pm with red carpet interviews and Shoggy Tosh told live viewers & re- porters that he hoped to go home with 2 awards, TV Presenter of the year for himself & the Best Band | Choir | Group of the year - Simply Chrysolite. Shoggy won his category beating fellow nominees - Congolese Benita White (UK based), Praise Asemota, Sido Kasanda & Pastor Peter 'Praisetek' Oyebobola making it 8 international awards in 2 years.
His previous conquests are the Best TV Personality & Best TV Show at BEFFTA 2010 AWARDS, London. United Kingdom; Best Journalist & Best Magazine at the AFRICAN EUROPE MULTIPLE 2010 AWARDS, Alicante. Spain; Best TV Presenter at Gospel Music Awards, Ireland 2011 (SPECIAL CATEGORY) & Magazine of the year & Best TV at the National Gospel Awards 2011, Lagos State. Nigeria. Shoggy Tosh is the Publisher of TOSH Mag & TV and currently the CEO of the Nigerian Player of the year awards.
Simply Chrysolite who were off to Kingston for Jamaica's 50th National Independence celebrations was represented by Shoggy Tosh on the night and won the Best Band | Choir | Group of the year. They were the only African group invited for the Gospel Festival 2012 also featuring Kirk Franklin, Goody Goody, Carlene Davis, Papa San, Junior Tucker, Evangelist Andrew Palau & many more.
Simply Chrysolite beat Maximum Melodies (Kenya), Makoma (Holland), Tim Godfrey and Ex- treme Crew (Nigeria), Skuulfoo (Ghana), Vining Ogu and This Experience Choir (Nigeria), Obert Mazivisa and the Trumpet Echoes, Sowetos Spiritual Singers (South Africa) & Adawnage (Kenya). They have now won 6 awards (5 International ones) in only 3 years; that would be the Best engineered album at Crown Gospel Awards in South Africa 2010; Best International act at BEFFTA 2011 AWARDS, London. United Kingdom; Best Album & Best song of the year at Gospel Music Awards, Ireland. 2011 & Best Video of the year (Lord I love you) at Gospel Music Awards, Italy 2012.
Simply Chrysolite is made up of six young ladies from KwaZulu-Natal aged between 20 - 25 years: Pretty, Thab'zo, Mabongi, Dolce, Thabiso and Phumzile. Four of the ladies are from Umlazi, South West of Durban while the other two are from Lamontville and Pietermaritzburg. They are all men- tored by Rev Tim Omotoso, the Senior Pastor of Jesus Dominion International and were nur- tured by Tim Omotoso Global Outreach.
The night saw hot & electric performances from 2010 MOBO Gospel award winner Guvna B, Faith Child, Tayme Tee, 4 Kornerz, Makoma, BNG, Kenyan superstar Emmy Kosgei, Iyobo Van Lierop, Atta Boafo & many more. A glorious night indeed! The event was beamed live to viewers by OHTV via their OH Box & Iphone, Ipod & pads in America & Africa.



BEST GROUP & BAND OF THE YEAR 1




BEST TV PRESENTER 1




BUKKY ADESUNLOYE & SHOGGY TOSH




NIGERIAN INTERNATIONAL SONE ALUKO CAME TO SUPPORT SHOGGY TOSH




ON THE RED CARPET AFTER WINNING 2




ON THE RED CARPET AFTER WINNING




SHOGGY TOSH & DOLLY PEE (AN UPCOMING UK GOSPEL ARTIST)




SHOGGY TOSH COLLECTING BAND & CHOIR OF THE YEAR ON BEHALF OF SIMPLY CHRYSOLITE




SHOGGY TOSH COLLECTING HIS AWARD FROM LOLA OLUBADEJO & VIDAL OHTV




SHOGGY TOSH COLLECTING HIS AWARD FROM LOLA OLUBADEJO & VITAL OHTV




SHOGGY TOSH COLLECTING HIS AWARD FROM LOLA OLUBADEJO & VITAL




SHOGGY TOSH ON THE RED CARPET WITH BUKKY ALABI OHTV




SHOGGY TOSH PRESENTED THE AWARD ALBUM OF THE YEAR TO SONNIE BADU''S FAMILY




SHOGGY TOSH WITH 2 GONGS B SM




SHOGGY TOSH WITH NIGERIAN GOSPEL STAR BEE DEE & HER MANAGER TOM




SHOGGY TOSH WITH NIGERIAN GOSPEL STAR BEE DEE




SHOGGY TOSH WITH NIGERIAN INTERNATIONAL SONE ALUKO & HIS GUEST OSI EGOLE




SHOGGY TOSH WITH PRAISE ASEMOTA & PASTOR JULIE PRAISETEK (FELLOW NOMINEES)




SHOGGY TOSH WITH PRAISE ASEMOTA, PASTOR JULIE PRAISETEK (FELLOW NOMINEES) & MC WOLE AWOLOLA




SIMPLY CHRYSOLITE INVITED TO JAMAICA




AFRICA GATHERS FOR A NIGHT OF GOSPEL GLAMOUR




NIGERIAN INTERNATIONAL SONE ALUKO CAME TO SUPPORT SHOGGY TOSH




SHOGGY TOSH WITH NIGERIAN INTERNATIONAL SONE ALUKO & HIS GUEST OSI EGOLE