Dakuku Midwifes First Constituency Economic Zone in Nigeria
… Andoni-Opobo-Nkoro set to showcase potentials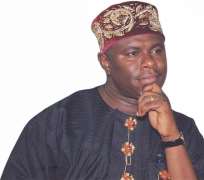 As a concrete step towards realizing his avowed commitment to give the people of his constituency quality and purposeful leadership, Amaopusenibo (Hon.) Dakuku Adol Peterside has commenced the process of setting up the first ever constituency-based economic development zone under the aegis of Andoni-Opobo-Nkoro Economic Zone Foundation.
Briefing journalists on the development in Port Harcourt recently, Engr Emiy Ikuru, a retired staff of Shell Petroleum Development Company of Nigeria (SPDC), who chairs the Foundation, revealed that the economic development zone when fully put in place will become the first economic development zone by a Federal Constituency in Nigeria.
Explaining steps so far taken to bring the vision to fruition, Ikuru said that already 26 technical committees made up of five persons each and headed by eminent professionals in the Federal Constituency have already completed work and are turning in their reports. The committees include education (Dr. Augustine Nte), health (Chief (Dr.) Silas Eneyo, economy (Dr. Chamberlain Peterside), road infrastructure (Engr. Sampson Ngerebara, agriculture (Dr. (Mrs.) Amiye Francis), power (Engr. Leo Ikan, human capital development (Dr. S.J. Akikibo-Ofori), land-use & housing (Elder Iyerefa Cookey-Gam, culture & monuments, etc. (Prof. Henry Bellgam), oil & gas (Amaopusenibo Don Boham) and women & gender issues (Pst. (Mrs.) Ene H. Secondus). Others are banking & SMEs, etc. (Gogo Charles Levi), Eco-tourism (Chf. Amalaya Otuowaji), commerce & industries (Prof. Seth Accra-Jaja), solid minerals, etc. (Dr. Felix U. Nte), water resources (Cyril Gogo Ubulom), maritme & water, etc, (Chf. Ephraim Etete-Owo, youths & sports (Ibok-Ama Wilson), local government administration (Dr. Alafuro Epelle), peoples, languages, history, etc. (Prof. John Enemugwem, skills acquisition (Dr. Jackson Akpa), rural development (Dr. Daniel Uranta, NGOs, donor agencies, etc. (Noble Pepple), peace & security (Major Lancelot Ayanyan, environment & geography (Prof. Winston Bellgam and ICT (Dr. Israel Cookey.
The focal persons for the various committees include Engr. Emiy Ikuru, Amaopusenibo William Igoni Park, Mike Igolima, Amiye Francis, Isaac Mietamuno Jaja, A.D. Abiante and Justus Ngerebara.
Engr. Ikuru stated that the next step would be to synthesize and articulate the work of the various sub-committees into two verifiable scientific documents that will spell out the economic potentials and developmental needs of the federal constituency
"Our strategic objective is to produce a concrete roadmap for the economic, social and human capital development of our constituency," Ikuru declared.
"The summit that will follow will be a platform to showcase our federal constituency; we will use it to tell our own story by ourselves to the world, he stated.
According to Engr. Ikuru, the summit will be a continuous exercise as it will be held annually to constantly appraise the progress made and chart the way forward.
Continuing Ikuru said: "We are the only two local governments in Rivers State that are not accessible by road now. But we need to put our federal constituency on the world map to let people know that we exist and also know what we have and what we can contribute. Indeed, we want to take the story of that federal constituency on to the world stage."
It would be recalled that the Andoni-Opobo-Nkoro Economic Zone Foundation was inaugurated at a well-attended event that took place at the Hotel Presidential, Port Harcourt on December 15, 2011. Eminent personalities that graced the occasion included the Deputy Governor of Rivers State, His Excellency, Engr. Teleyen Renner Ikuru as Special Guest-of-Honour; Senator Magnus Abe, NDDC Managing Director, Dr. Chris Oboh amongst others.
On March 30, 2012 a high-powered technical session was held by the executive committee at Juanita Hotel, Amadi Flat, Port Harcourt culminating in the setting up of 26 sub-committees.
Meanwhile, at an on-going 10-day Strategy Action Plan session, the Director-General of the Foundation Secretariat, Mr. Mike Igolima stated that, in preparation for the forth-coming Andoni-Opobo-Nkoro Economic Zone Development Summit 2012, a lot of work is being done to ensure the delivery of a world-class summit on the 4thand 5th of October, 2012.
"All hands are on deck to deliver a world-class summit and that is why we are bringing the United Nations Under-Secretary and Executive Secretary of Economic Commission for Africa (ECA), Dr. Carlos Lopes, as lead guest speaker at the event," Igolima revealed.
According to Mike Igolima, other eminent persons and professionals in various sectors are billed to attend and deliver papers at the forth-coming summit.

Chris Finebone
Media Directorate
(08033362062)