Marriage Break-Up!! Insider Alleges, "Stephanie Dumped Rev. Okotie Because He Can't Impregnate Her!" …"It's A Lie," -Church Member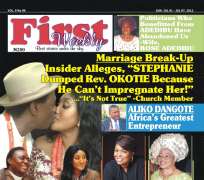 According to what First Weekly Magazine reported in this week, "Stephanie and I are no longer married. We have separated. You can see she's not in the church today.
It's due to irreconcilable differences and you should please respect our wishes at this time because there is no going back."
With the above statement, Rev. Chris Okotie on Sunday, 24th June 2012, at the church service, announced to the bewilderment of his church members that his four year old second marriage to beautiful Stephanie Henshaw has crashed. Rev Okotie's marriage to his first wife of 16 years crashed in 1998.
The announcement took many by surprise because after Okotie, who is the General Overseer and founder of the Household of God Church, Oregun, Lagos married Stephanie, in August 7, 2008 through a traditional marriage at the bride's Ikoyi, Lagos home followed by the court wedding at the Ikoyi Registry on August 8, 2008, the glamorous pastor explained in a press conference that the marriage was ordained by God.
Okotie had said that Stephanie was destined to marry him from birth. "She was not particularly certain whether it was what God wanted for her. So I had a situation where I had to get the Lord to persuade her that He is part of this agreement" Okotie was quoted to have said.
But with the announced break-up of the second marriage, many have queried if it was true Okotie actually heard from God that Stephanie was meant for him or he was just hallucinating.
Chris Okotie had always been in the news since he shot to limelight in the early 80's as a funky pop star, while in the University. His song, 'I NEED SOMEONE' was a monster hit, and it ruled the airwaves and night clubs at that time.
Okotie, who stated his music career with Edo College School Band abandoned his musical career at the height of his stardom to complete his study of law at the University of Nigeria, Nsukka after which he bagged a Bachelors in Law in 1984. He claimed to have received a divine call in 1985 which made him to attend the Bible School in Tulsa, Oklahoma, U.S.A.
The former pop star returned to Nigeria in 1986 and started his ministry, House Hold Fellowship in 1987, and later became Household of God International Ministries with its first service held in his living room in Ikeja.
Reverend Okotie acquired and moved to the permanent location of his church in 1992 and has reportedly bought over all the landed property in the environment.
In 1998, Okotie got separated from his first wife, Tina who he had been dating when he was a student. He was married to Tina for 16 years, and Tina eventually relocated to America where she later remarried.
After his marriage to Tina crashed, stories began to fly here and there that the funky pastor was having affairs with several ladies in his congregation. This went on for a long time until Okotie eventually married Stephanie Henshaw four years ago.
Interestingly, Stephanie was a widow who had three children from two marriages. Rev. Okotie was her third husband.
However, not much was known about the state of affairs of the marriage as the couple was seen severally at public outings, holding hands and displaying public show of affection until Okotie made the declaration of the "irreconcilable differences" in church last Sunday.
Meanwhile, tongues have been wagging and public scrutiny had been beamed on the possible reason Rev. Okotie's second marriage crumbled.
A very close source who claims to know Rev. Okotie well alleged that Okotie's marital problems stems from his presumed inability to father a child.
"It's very difficult to push to the public, but the reasons Okotie's marriages are not working is because of childlessness. It's a private thing, and he is battling the problem. Tina was with him for about 17 years without a child to show for the marriage. That was why Tina had to relocate to America, and remarried. I even heard she has a child now," our source disclosed.
But we pointed out to our source that so far as Stephanie already had three children, she couldn't have agreed that the marriage to Okotie breaks up. "A woman generally does not feel secure if she doesn't have a child for her husband, and especially if the man is seen or suspected of keeping other women. That is the issue with Okotie and Stephanie. I don't want to say more than this. Please." The source stated.
But another source who is a member of the Household of God Church said the above insinuation is wrong. "It is a rubbish talk. The person that said so should not let the wrath of God be visited on him or her. Is the person God?
It's only Rev. okotie and Stephanie that know the reasons they got separated, and we are praying for them. It is wrong to say Rev. Okotie can't father a child." The source said.
Click the link below to go to...
Exposed: Married Nollywood Actresses Sleep Around Like Dogs - Shan George
E-x-c-l-u-s-i-v-e: 'I Had The Wedding Of My Dreams' Newlywed Actress, Uche Jombo
Okotie's Crashed Marriage: Celebrities React
There Is Healthy Competition In Ghollywood-Ghana-Yvonne Okoro
Pastor runs mad while praying for mad man in Ibadan
Ex Bayelsa Gov. (Dipriye Alameiyeisegha) Loss $1,931M To US
ZIK AND AWO, HEROES THAT FAIL US
Stella Damasus, Daniel Ademinokan Become An Item
Between Mercy Johnson, Funke Akindele's Wedding, Which Was More Controversial?