Foreign Ministry Innocent Of $3.6m Laundering Allegation, Says Ashiru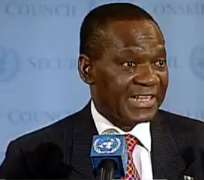 ABUJA, June 28, (THEWILL) – Nigerian minister of foreign affairs, Amb. Olugbenga Ashiru has denied widespread theories that the account of the Nigerian Embassy in the United States was frozen because the foreign ministry suspiciously moved a sum of $3.6m from it.
He said the account was never even frozen in the first place, and the said amount of money couldn't have been moved as the foreign ministry holds no control over budgetary allocations and disbursement of funds to Nigerian Missions abroad.
"It needs to be stated, for information, that the foreign minister has no control over budgetary allocations and disbursement of funds to Missions abroad," Ashiru said in a statement released in Abuja on Thursday.
"Once the budget has been approved by the National Assembly and signed into law by the President, the power and responsibility to directly remit funds to Missions overseas are vested in the Federal Ministry of Finance. Thereafter, Missions administer their budgets as approved by law without reference to the Minister of Foreign Affairs. "
The statement, signed by the acting director (public communications) and spokesperson of the Ministry of Foreign Affairs, Mr. Ogbole Amedu-Ode, linked the allegations to desperate attempts to bring the nation into disrepute.
Ashiru explained that the Ministry of Foreign Affairs regularly monitors the accounts of Missions and any report of financial irregularities are promptly investigated and dealt with, in line with extant regulations and procedure.
"The Mission in Washington had stated times and again that it never operated any accounts with Wells Fargo and the Bank of America. Accounts that do not exist could never have been frozen or closed," he said, adding that "the vice president of the M & T Bank, Mr. Peter Senica, where the Mission maintains some accounts, has stated that at no time were those accounts ever frozen for alleged money laundering activities."
He refused to make precise pronouncements on the sale of several properties of the embassy in the U.S that he had been accused of covering up, saying the matter had been on for eight years, during which there has been five successive foreign ministers before him.
He added that making any serious comment on it amounts to sub judice since it is still pending in court and it is as well a subject of ongoing investigations by the Economic and Financial Crimes Commission and prosecution by the Federal Ministry of Justice.