Boko Haram And Terrorism: Senate Demands Special Courts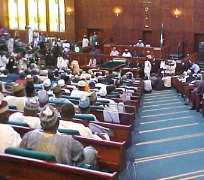 ABUJA, June 27, (THEWILL) - The Senate on Thursday urged the federal government to inaugurate a special court that would expeditiously try cases of terrorism and as well strengthen laws relating to security crimes.
This was part of resolutions reached at the end of the year's Senate retreat, held at Le Meridien Ibom Hotel and Golf Resort Uyo, Akwa Ibom State. Senators also agreed on the need to intensify the war against corruption.
The resolutions called for the strengthening of terrorism and insecurity-related laws as well as increase in logistics support to Borno State and other attack-prone states. They also advised the federal government to enhance bi-lateral and multi-lateral networks useful in curbing terrorism.
Devising more solutions to acts of insurgencies masterminded by the Boko Haram Islamist sect, the retreat resolved that federal government should accelerate work on the creation of employment opportunities in order to alleviate poverty and idleness among youths.
It further called for the enactment of witness protection law to encourage citizens to volunteer useful information about perpetrators of insecurity, and implored the National Assembly to increase the funding of security agencies, with greater focus on intelligence gathering.
The resolution also called on government at all levels to increase support to communities that are affected by environmental degradation, through the effective deployment and use of ecological fund.
The 15-point communiqué, which was endorsed by Senator Ndoma Egba, chairman, Communiqué Committee, Senate Retreat 2012, observed among other things, that countering terrorism in the country requires new legislations and re-examination of current legal framework on security.
"In addition to the current measure being pursued by government, there is need for dialogue as feasible solution to addressing and resolving the Boko Haram attacks and the sect should be encouraged to embrace dialogue as well," The emphasised.