THE ETHNIC ORIGIN OF PLANE CRASHES....... A MEMO ON PLANE CRASHES IN NIGERIA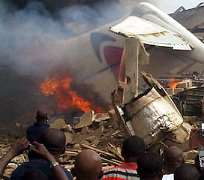 1.0 INTRODUCTION:
Two suppositions ground the title of this piece, firstly, that most plane crashes in Nigeria are believed to take place at weekends, Saturdays and Sundays especially; and secondly, that because of corruption, which some argue is cultural and systemic, best practices are not maintained in Nigeria, which in the aviation industry, can prove fatal. I must confess though that this title is not original but an adaptation of the title of Chapter 7 titled: The Ethnic Theory of Plane Crashes, of Malcolm Gladwell's classic book (The Outliers, The Story of Success).
According to Malcolm Gladwell, plane crashes are more likely to be the result of an accumulation of minor difficulties and seemingly trivial malfunctions and that, studies in the aviation industry have shown that perfect pilots can fly perfect-condition planes in perfect weather and still crash because of certain cultural idiosyncrasies.
2.0 A CHRONICLE OF 37 PLANE CRASHES IN 24 YEARS OR 38 CRASHES IN 43 YEARS IN NIGERIA
Thanks to Bamidele Aturu who in proceeding under the FOI Act of 2011 to compel the Hon. Minister of Aviation to release reports of all notable plane crashes in Nigeria since 1969, has given us an idea that Nigeria has some of the worst record of plane crashes anywhere in the world; 37 in 24 years if you discount number one on the list below. With dates, they include:
1.November 20, 1969: Nigeria Airways BAC VC10
2.December 1988: Skypower Brandeironte aircraft
3.June 26, 1991; Okada Air BAC-111
4.February 24, 1991: British Helicopter
5.May 21, 1991: A Cessna Citation 550
6.June 26, 1991: Okada Air Bac-11
7.July 11, 1991: Nigeria Airways DC-8-61
8.September 26, 1992: Nigerian Air Force A C-130
9.June 24, 1995: Harka Air Services Tupolev 34
10.November 13, 1995: Nigeria Airways Boeing 737-2F9
11.November 7, 1996: A Nigerian ADC (Aviation Development Corporation) Airline Boeing 727-231
12.January 31, 1997: SkyPower Express Airways Embraer 110PIA
13.September 12, 1997: A NAF Dornier 228-212
14.January 5, 2000: SkyPower Express Airways Bandeirante 110P1A
15.October 26, 2000: Dornier aircraft
16.May 4, 2002: EAS Airlines' BAC 1-11-500
17.November 30, 2003, a Cargo aircraft
18.March 6, 2004: An Aenail spray aircraft with registration number 5NBEF
19.July 26, 2004: Pan African Airlines' helicopter
20.December 29, 2004: A Boeing 727 of Chanchangi Airlines
21.December 29, 2004: A Kenya Airlines aircraft
22.January 28, 2005: A Nigeria Air Force fighter plane
23.February 25, 2005: ADC's B73 aircraft
24.March 27, 2005: A Boeing 737 of Bellview
25.June 11/12, 2005: Lagos: A Boeing 727-200 Aircraft
26.June 24, 2005: A Russian Aircraft belonging to Harka Air
27.July 6, 2005, Port Harcourt: an Air France A330 plane
28.July 23, 2005, a Lufthansa aircraft
29.October 22, 2005: A Bellview Airlines Boeing 737
30.December 10, 2005: A Sosoliso Airlines DC-
31.September 17, 2006: A 18-seater Dornier 228 Air Force transport plane
32.October 29, 2006: Aviation Development Corporation Airline Boeing 737
33.November 10, 2006: OAS Service Helicopter
34.August 2, 2007: Bristow-owned helicopter
35.March 15, 2008: Beechcraft 1900D plane
36.March 14, 2012: A Helicopter belonging to the Joint Task Force (JTF)
37.June 3rd 2012-DANA Aircraft crash
Aturu's chronology missed out the December 1981 Nigerian Airways flight piloted by a Ghanaian pilot which crashed in Enugu (and killed many including a daughter of Chief CC Onoh (who would later become Governor of Anambra State) who was returning to Nigeria after bagging a PHD in law from Europe) and of course, the many military plane crashes often shrouded in military secrecy, one of which killed my first cousin, Wing Cdr. Edward Karl Scott-Emuakpor and his co-pilot at Jaji in January 2006 around his 45th birthday! Aturu's chronology is however good enough for the purposes of this discussion.
3.0 NIGERIA
I posit that the fact that most major plane crashes in Nigeria take place during the weekends is cultural and native to Nigeria.
The second cultural cause is corruption; which as observed earlier is systemic.
a. A Poor Work Ethic
Weekends in Nigeria are, Friday, Saturday and Sunday. Weekends enjoy the highest number of commercial passengers in Nigerian airports but are when that crash may occur if at all. The reason for this is a poor work ethic at all times and certainly at the weekends. It is so in Nigerian hospitals; it is so with the Nigerian traffic officer on the roads and certainly true of the Air Traffic Controller. The Air Traffic Controller is laid back at weekends and completely uncommitted and uncoordinated. The investigative reports of November 1995 1995 ADC crash into the swamps of Lagos, in which my very close friend Lawyer Mike Okafo died, indicated that three times the Air Traffic Controller directed pilots in two planes, one taking off, the other about to land into each other's paths. One plane was equipped with its own independent radar which made its pilot realize the error of the ATC. The other plane too old to be in our airspace was not so equipped. The plane so equipped made a sharp turn away from the plane not so equipped. The plane not so equipped (with Captain Dafe Sama, one of Nigeria's most experienced pilots in control) upon discovering also that the Air Traffic Controller had misdirected him into the path of the other plane, made a turn away but alas into the path just turned to by the other plane. The pilot then executed a sharp turn away from the new path of the oncoming plane. This was too much for the elderly plane and it plunged into the swamps of Ejigbo taking along with it Nigeria's preeminent economist Prof. Claude Ake and many others whose bodies were never recovered.
To take the biggest crashes in Nigeria, apart from the Dana Air flight 992 which crashed on Sunday, June 3rd 2012, ADC Airlines Flight 53, a Boeing 737-200 crashed near Abuja, killing 96 0f the 105 persons on board including the Sultan of Sokoto and about a dozen medical doctors, Bellview Airlines Flight 210 which crashed into Lisa, a village in Ogun State on Saturday, October 22, 2005 shortly after take-off killing all 117 people on board and Sosoliso Airlines Flight 1145 which crashed in Port-Harcourt as it attempted to land in bad weather with all the runway lights off killing 107 of the 110 people on board, including children returning home on holidays.
Lending credence to the weekend phenomenon, the President of the Aviation Business Round-Table and former presidential plane pilot, Captain Dele Ore in the Nation newspapers of Saturday, 16th June 2012, posited that the high incidence of plane crashes at the weekend was no coincidence. According to him,
"the industry is a non-stop 24-hour service operation. Inspectors who see to the conditions of the aircraft are very important to the day-to-day operation of airlines….either the inspections of the aircraft are shoddily done on weekends or are simply non-existent."
b. Corruption
Res ipsa loquitur! The yearly Transparency International rating Nigeria as one of the more corrupt nations in the world together with the World Bank Doing Business Index ratings as a nation which, because of corruption is very expensive to do business in speak for themselves. The Dana Airline flight 0992 was an accident waiting to happen. It was possible for that plane to enter Nigerian airspace after a history of mishaps in its previous life as Alaska Airlines only because in Nigeria we suffer regulatory mechanisms and enforcement regimes. And why are they weak? Corruption is the cause. Almost every citizen subordinates the public interest to his personal interest.
The only thing wrong with corruption in Nigeria is that you 'chopped alone.' For as we say in Nigeria, 'if you chop alone, you die alone.' Nigerians hate corruption extremely, from the bottom of their hearts when the allegedly corrupt person is not from their tribe, state, region or religion. Nigerians consider any one who gets into public office and does not help himself to the public till as mentally ill. Planes crash in Nigeria because best practices are jettisoned on the altar of corruption. Mediocrity is tolerated. The regulatory officers turn a blind eye to imperfection because they have been bribed. To broaden the field, footballers may be fielded in a Nigerian team not because they are fit but because they have given a gift to the coach! We all are at risk.
4.0 LESSONS FROM SOUTH KOREA
South Korea had a dubious distinction for some of the worst air crash records world-wide. How it turned-around and the cultural reorientation it catalsyed is the purpose of the study.
Before the turn-around, this was South-Korea's own chronology:
a.Two in 1971 and 1976;
b. Korean Air Boeing 707 shot down by Russia in 1977;
c. Korean Air Boeing 747 crashed in Seoul in 1979;
d. Korean Air Boeing 747 crashed in Sakhalin Island, Russia in 1982;
e. Korean Air Boeing 707 in the Andaman sea in 1987;
f. Korean Air Boeing 707 in Tripoli in 1989;
g. Another Boeing 707 in Seoul also in 1989;
h. In 1994 another in Cheju in South Korea;
i. Korean Air Flight 801 Boeing 747 in 1997 in Guam.
South Korea's planes were crashing so frequently that when the US agency responsible for investigating plane crashes within American jurisdiction, the National Transportation Safety Board (NTSB) did its report on the Guam crash of 1997 it was forced to include an addendum listing all the new Korean Air accidents that had happened since it started its investigations:
j. The Korean Air Boeing 747 that crash-landed at Kimpo in Seoul almost a year to the day after Guam;
k. The jetliner that overran a runway at Korea's Ulsan Airport 8 weeks after that;
l. The Korean Air McDonnell Douglas 83 (same make as the ill-fated Dana flight 0993) that rammed into an embankment in Pohang Airport the following march;
m. The Korean Air passenger jet that crashed in a residential area of Shanghai;
Had the NTSB waited a few more months, it could have added the Korean Air cargo plane that crashed just after take-off from London's Stansted Airport!
In the wake of all these, Korean President Kim Dae-Jung had to declare, "Our country's credibility is at stake". Indeed, the same could be said of Nigeria. Nigeria's credibility is at stake. President Goodluck Jonathan got it right when he observed in the wake of both plane crashes that plane crashes were bad for the economy and sent wrong signals to potential investors.
However, since 1999, the safety record of Korean Air has become spotless. Aviation experts today describe Korean Air as now as safe as the very best airlines in the world. In proof of that, Korean Air has become member in good standing of the prestigious Skyline Alliance and in 2006, was given the Phoenix Award by Air Transport World in recognition of its transformation.
5.0 AVIANCA FLIGHT 052
Before tying up the point let us take a look at the impact of culture on the Columbian Airliner Avianca Flight 052 which crashed into a housing estate in New York in 1990 and which so perfectly illustrates the characteristics of the "modern" plane crash that it is today studied in flight schools.
As reported by Malcolm Gladwell, "the captain of the plane was Laureano Caviedos. His first officer was Mauricio Klotz. They were en route from Medellin, Columbia, to New York City's Kennedy Airport. The weather that evening was poor. There was a nor'easter up and down the East Coast, bringing with it dense fog and high winds. Two hundred and three flights were delayed at Newark Airport. Two hundred flights were delayed at LaGuardia Airport, 161 at Philadelphia, 53 at Boston's Logan Airport, and 99 at Kennedy. Because of the weather, Avianca was held up by Air Traffic Control three times on its way to New York. The plane circled over Norfolk, Virginia, for nineteen minutes, above Atlantic City for twenty-nine minutes, and forty miles south of Kennedy Airport for another twenty-nine minutes.
"After an hour and a quarter of delay, Avianca was cleared for landing. As the plane came in on its final approach, the pilots encountered severe wind shear. One moment they were flying into a strong headwind, forcing them to add extra power to maintain their momentum on the glide down. The next moment, without warning, the headwind dropped dramatically, and they were traveling much too fast to make the runway.
Typically, the plane would have been flying on auto-pilot in that situation, reacting immediately and appropriately to wind shear. But the autopilot was malfunctioning, it had been switched off. At the last moment, the pilot pulled up, executed a "go-around." The plane did a wide circle over Long Island, and reapproached Kennedy Airport.
Suddenly, one of the plane's engines failed. Seconds later, a second engine failed. "show me the runway!" the pilot cried out, hoping desperately that he was close enough to Kennedy to somehow glide his crippled plane to a safe landing. But Kennedy was sixteen miles away. The 707 slammed into the estate owned by the father of the tennis champion John McEnroe, in the posh Long Island town of Oyster Bay. 73 of the 158 passengers aboard died. It took less than a day for the cause of the crash to be determined: "fuel exhaustion." There was nothing wrong with the aircraft. There was nothing wrong with the airport. The pilots were not drunk or high. The plane had run out of fuel".
6.0 CULTURE AND PLANE CRASHES
A Dutch psychologist Geert Hofstede in his book, 'Culture's Consequences' formulated a theory called 'Power Distance Index' (PDI) on attitudes toward hierarchy, specifically about how much a particular culture values and respects hierarchy. Those who value and respect authority more are high PDI cultures and those who are not intimidated by authority are low PDI cultures. Hofstede was not suggesting that one culture was superior to another, rather that although each individual has his or her own distinct personality, there are tendencies, assumptions and reflexes handed down by the history of the community one grew up in, and these differences matter.
Another psychologist, Robert Helmreich who has done more than than anyone to argue for the role of culture in explaining pilot behavior, argues that to understand the Avianca crash, you need to take co-pilot Klotz's nationality into consideration. As a Columbian, he had a deep respect for authority. He sees himself as a subordinate and so, made two strategic errors which caused the crash.
One, he felt it was the Captain's job to solve the crisis and did not take into cognizance the fact that since the Captain was exhausted he needed to be more assertive. Secondly, he was intimidated by New York's domineering, overbearing Air Traffic Controllers.
America is a low PDI culture and Columbia, Klotz's nationality is a high PDI culture. Klotz's last words to his Captain as captured by the flight recorder were "The guy," (meaning the Air Traffic Controller) "is angry." But the Air traffic controller wasn't angry. He was just being a typical American under stress- rude, bossy and domineering. To Klotz's mind, he had tried and failed to communicate their plight and his only conclusion is that he must have somehow offended his superiors in the control tower. Co-pilot Klotz could not escaped the dynamic dictated to him by his culture in which subordinates must respect the dictates of their superiors.
In the wake of the Kennedy crash, the management of Avianca Airlines held a post-mortem especially because Avianca had just had four accidents in quick succession – Darranquilla, Calcutta, Madrid and New York and in all four cases, the report indicated that the airplanes were in perfect flight condition, aircrew without physical limitations and considered of average or above average flight ability. The co-pilot was right in some of the cases but was too non-assertive. The non-assertiveness was rooted in culture. Subordinates did not assert with their superiors in that culture unlike some other cultures.
Same with the Korean Air crashes. The recorder of Korean Air Flight 801 Boeing 747 in 1997 which crashed in Guam indicated the same challenge of non-assertiveness by the co-pilot unlike American co-pilots who are trained to seize control of the plane if the pilot is making serious mistakes.
It was easy for their captains to ignore their solid hints that their captains were in error because both co-pilots in both Korean Air Flight 801 and Avianca Flight 052 used mitigated speech in addressing their captains. Korean culture is very superior but conversational aspects of the culture were found to be vastly unsuitable for flying planes because Korean language has no fewer than six different levels of conversational address, depending on the relationship between the addressee and the addresser and your status did matter in how you addressed another. Thus the first officer or co-pilot would not have dared to use one of the more intimate or familiar forms when he addressed the captain.
7.0 SOLVING THE PROBLEM
The problem of mitigated speech was solved in Korean Air first of all, by bringing in an outsider from Delta Air Lines, to run their flight operations. The details of how David Greenberg embarked upon a total cultural overhaul of pilots and their first officers are another day's discuss. But suffice to say, without condemning the Korean culture or sacking anyone, he did embark on a cultural re-education of the cockpit personnel such that the relative standing between a Caption and his first officer in the cock-pit ceased to matter! Korean Air and the Korean Airspace is today one of the world's safest, aforesaid.
8.0 CONCLUSION - Massive Cultural Reorientation Needed Clearly, corruption has to be dealt with, but above all, the route to rooting out systemic corruption is massive cultural reorientation. Since we are talking about the Aviation industry, the regulatory and administrative authorities have to direct a proactive cultural retraining and reorientation to encompass our national work ethic and our corruption. The National Orientation Agency may have to be engaged in this regard.

Written By Ikeazor Akaraiwe
Mr. Ikeazor Akaraiwe is a Barrister at Law and Chairman of Rule of Law Alliance. He has held forte inter alia as 1st Vice-President of the Nigerian Bar Association (NBA) and Chairman of the Human Rights Institute of the NBA and is currently Alternate Chair NBA Section on Public Interest and Development Law (SPIDEL) as well as Chairman of the Anambra State Governorship Elections Monitoring Board and the FCT Local Government Elections Monitoring Board and board member, National Orientation Agency, an agency of the Federal Government.
This Memo is dedicated to all who have lost their lives in plane crashes in Nigeria including my friend Mike Okafo but especially to Miss Alvana Ojukwu, the 27-year old gender rights lawyer who called the author 'Uncle Ike.' She was aboard Dana Air Flight 992.
Disclaimer:

"The views/contents expressed in this article are the sole responsibility of

thewillnigeria.com

and do not necessarily reflect those of The Nigerian Voice. The Nigerian Voice will not be responsible or liable for any inaccurate or incorrect statements contained in this article."
Articles by thewillnigeria.com