Niger Delta Group Commends Jonathan For Firing Azazi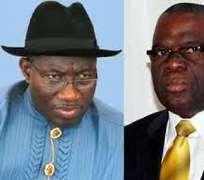 SAN FRANCISCO, June 24, (THEWILL) - A South-South pressure group, the Niger Delta Liberation Force (NDLF) has praised President Goodluck Jonathan for the sack of General Andrew Owoye Azazi(rtd) as national security adviser.
The group, in a statement signed by it spokesman, Capt Mark Anthony, described Azazi as an "embarrassment and failure" to Ijaw nation/Niger Delta and to the president's kitchen cabinet, saying he misled the president with his archaic classroom military tactics that do not work out in practical combatant operations.
A part of the release reads:
The sack decision by Mr. President is a wise decision that came almost too late as Azazi was overly incompetent, which brought the president and Nigerian government to international ridicule and embarrassment on security matters. NDLF had called for the sack of the NSA for long since he was found obviously derailing, putting hundreds of Nigerians into untimely death by Boko Haram extremists' activities.
For the records, the sack of NSA Andrew Azazi is unconnected with his publicised accusation against the PDP-led government that it fuelled the current insecurity and bombings in northern parts of the nation. But it was clear show of incompetence on his part as the worst national security adviser the country had ever had over the years.
One could recall that in 2010, NDLF had a gun confrontation with the Joint Task Force (JTF) and the JTF lost the battle. The Nigerian Army, under the watchful eyes and supervision of the sacked NSA, sent JTF soldiers to test-run their newly acquired military planes and other lethal weapons on an Ijaw town, Ayakoromor, on the 1st of December, 2010, thereby causing genocide on harmless and innocent ancient community.
As God does his things, Boko Haram from the north, sprung up by killing innocent Nigerians in hundreds under the same Azazi's security supervision. But he failed to deploy the same military war planes and other lethal weapons to bomb some northern towns to stem further suicide bombing, as he commanded in the case of the Niger Delta militancy. To our surprise, the NSA cleverly dodged his responsibility by being afraid of his former generals and ex-military heads of state from the north and by shifting blames carelessly and raising accusing fingers at the ruling PDP of brewing the insecurity in the nation.
NDLF therefore, declare the former NSA Mr. Andrew Azazi an outcast and non- persona grata in all Ijaw communities, including his hometown, Peretoru-gbene in Bayelsa state for his personal sins against NDLF and good people of Ijaw nation by supervising the bombing and killing of innocent Ayakoromor people under his nose while failing to bomb any northern town over Boko Haram senseless killing of hundreds of innocent citizens and foreigners until his last day in office as national security adviser to the President.
Also, Mr. Andrew Azazi should be held responsible for all those innocent people who died in Ayakoromor genocide and all the casualties in Boko Haram bombings in the country, resulting from his outright incompetence as national security adviser."