ANOC USA to honour Jonathan, Okorocha, Imoke, others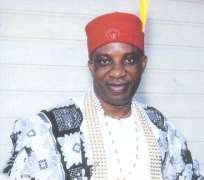 An association made up of reputable Igbo titled men and residents in the United States of America, Association of Nze, Ozo and Chiefs, ANOC-USA, Inc., has scheduled its inaugural Induction and Award Presentation Ceremony, for Saturday, July 28, 2012.
The ceremony will take place at the 2nd Floor of Hollywood Park Casino & Hotels @ 3901 W. Century Blvd., Inglewood, CA 90303, USA.
According to the President and founder, Chief Jones A. Okeke, the association is on a mission to help actualize President Goodluck Azikiwe Jonathan's call to rebrand Nigeria globally, through positive actions, media presentations and promotion of rich Nigerian historical and cultural heritage; via language, custom, tradition, civilization and essence.
Interestingly, ANOC-USA, Inc. will use the opportunity of the inaugural induction festival to honor a few distinguished Nigerians with its 2012 Diaspora International Merit Awards of Excellence (DIMAE), as it also hopes to use its presentation of awards to begin a process of sustained stimulation and encouragement of fundamental accountability in governance, growth and development in business and industry, as well as to eventually influence positive social change in States of Nigeria, where Igbo people constitute twenty-five percent or more of the entire residents or population.
However, ANOC-USA hopes to unveil plans for its capital project for the future at the event. The project according to the founder is expected to foster unity among Igbos everywhere, and to point every Igbo person and friends of Ndi Igbo world-wide, to a purpose-driven direction of cultural pride and hopeful existence.
The event is expected to last for two-days with the theme: "to promote the positive presentation of our rich history, custom, culture, tradition and Language, globally", as there will also be a symposium on the role of chieftancy institution and renaissance title- holding in (Nigerian) nation-building.
The occasion which is expected to attract a cross-section of traditional royal fathers, politicians, religious, educational, industry and business leaders from the three major ethnic groups of Nigeria (Igbo, Hausa and Yoruba), will feature a generous display of Arts, Crafts, clothing and artifacts from Igboland.
Also, ANOC-USA will showcase authentic Igbo food, music and dances, to be capped with the regal outing of ENYI ANOC Masquerade. Among the awardees are: His Excellencies, President Goodluck Jonathan, Liyel Imoke, Anayo Rochas Okorocha, Peter Obi, Sullivan Chime, Martin Elechi, David Mark, Tele Ikuru, Pius Anyim Pius, Dame Judith Amaechi, Chris Anyanwu and host of others.