Police Defuse Bomb In Mosque To Foil Attempted Mass Bombing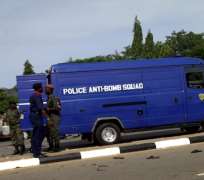 KANO, June 22, (THEWILL) - The possible killing of several hundred people was thwarted on Friday in Kano, Nigeria's second largest city, when a bomb planted in a mosque by someone suspected to belong to the Boko Haram Islamist sect was discovered.
Hidden in a plastic bag inside Fagge Mosque, which seats about 15, 000 worshipers, was a high-volume Improvised Explosive Device (IED). Upon discovering the bag, officials of the anti-bomb squad from Bompai Police headquarters were called to the mosque, where they identified the content as an explosive device and defused it.
Kano State Commissioner of Police, Ibrahim Idris confirmed the incident, saying three suspected terrorists had been apprehended. He said the person who planted the explosive entered the mosque shorty before prayers were to begin, hid the explosive in a plastic bag, and pretended to be reciting the Quran.
"After some minutes, he went outside, came in again, sat in the same position and pretended to be reading the Holy Book," he said. "After a while, he went outside, abandoned the plastic bag and never returned. At this point, the mosque committee suspected the plastic can and alerted the Police."
Speaking further, Idris urged residents of the area to be unrelenting in their vigilance and to inform the Police of any suspicious movement in their vicinity.
"People should be very careful even in the mosques and churches," he said. "Worshipers should not be allowed to come inside places of worship with strange materials."
A member of the mosque who witnessed the scare said it was by "Allah's grace" that the tragedy was prevented, saying that the polythene bag was planted at the mosque's peak prayer hour. "It would have been another tragic story. They wanted to cause confusion but Allah exposed them."