Catholic Church Christmas Day Bomber, Habeeb Bama Detained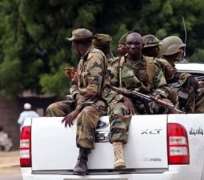 SAN FRANCISCO, June 21, (THEWILL) – Nigeria's security forces have detained a man it accused of masterminding the Christmas Day bombing of a Catholic Church in Madalla, a few miles from Abuja.
Habeeb Bama, a member of the Boko Haram sect, was arrested during an early morning raid on Thursday in Damaturu, Yobe State Capital.
Confirming the development to reporters in Damaturu, Joint Task Force (JTF) Commander, Colonel Dahiru Abdullsalam said a combined team of security operatives acted after a tip off by residents.
The JTF commander declined to go into details but appealed to residents to continue to come forward with useful tips in order to bring the menace of the Boko Haram to an end.