JONATHAN IN THE EYE OF HISTORY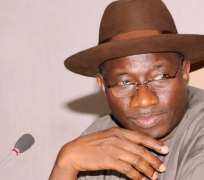 One year in the life of any government hardly speaks of achievement of that government rather it tries to capture the policy direction of the government . History has no mention of a leader who has within one year in office accomplished much but rather history is replete with leaders who within the time period has laid a good master plan of what it purposed to accomplished. The past one year of Jonathans administration has attracted mix reactions from across all strata of Nigerians though on the negative .This negative dispositions is expected since Nigerians are yet to come to terms with over fifty years of misgovernance and plundering of the resources of the country by past regimes .But the questions that keep recurring is , is Jonathan the cause of this problem or is he a sacrificial lamb?
in fact your guess is as good as mine. Every Nigerians seems to be fascinated by the high level of economic and political development in Ghana but forgets that the leap was an outcome of 19 years of dedicated and sustained leadership of former president Jerry Rawlings , a regime that also had one minister of finance for 11 years and who through this time period was able to draw up and produce an economic master plan and saw to the execution of same .A good and objective assessment of the administration of president GoodLuck Jonathan can only be underscored when one takes cognizance of where we are coming from and where probably we are going . The main problem of successive Nigerian government over the years is the dearth of policy direction and continuity in terms of implementation of policies inherited from their predecessors.
The second and also the most endemic is corruption which has been elevated to an art and has become a rule rather than exception .After assuming office , Jonathan having realized that 90% of corruption cases in government occur within the oil and gas sector which is the major cash cow of Nigerian economy and in order to tackle the hydra header monster decided to weld the bid stick by plugging areas of leakages .To confront these entrenched cabal some of whom are even richer than the government requires a leader with enough politicalwill and suave, and so President Jonathan Smarting from presiding over generally accepted free and fair conducted elections and coupled with pan Nigerian good will received during the last general elections rose to the occasion by announcing government intention to discontinue subsidizing oil products ,and this of course was greeted with huge protest, some ill advised, others sponsored by the same oil rentiers.
President GoodLuck Jonathan seem to have been jolted by security challenges that has almost crippled his administration Many are of the view that his simple disposition and humility may not be the required character to deal with complexities and dimension of crime and criminal activities that the country has found itself and therefore has suggested a more sophisticated and proactive approach including wielding the big stick in order to deal decisively with the extant trend and bring relative peace to the country . It is a also suggested that those behind the hostility and spate of bombing are enemies of government especially those who are not comfortable with power shift and therefore would stock at nothing in orchestrating instability so as give the impression that the country is ungovernable under president Jonathan ,In fact Jonathan cannot afford to fail going by popular good will and expectation Nigerians places on him.
He started well by putting together a very credible economic team that will drive the economy with emphasis on upgrading critical infrastructures,agriculture,education and job creation on focus,the recent air disaster that claimed hundreds of lives notwithstanding do not vitiate major transformation going on in the aviation sector and this pales into significant when within one year ten airports in the country has been upgraded to an international standard with state of the art facilities . This does not mean that government is oblivious of numerous challenges both in personnel and infrastructures especially the intractable power sector ,the fact remain that there must be a concerted effort in building capacity in all the sectors if the objective of the government is to be realized and in this regard ,agencies and parastatals has to be strengthened and well funded to deliver on their statutory responsibility.
It is most unfortunate that the value system ,morals and ethics in the country has completely broken down and tasking Jonathan in that direction is a tall order especially in a country where government statement is not only often misjudged but politicized as well ,for example the single six year tenure as recently suggested by the president was taken as smuggling tenure elongation through the back door by the political elites and opportunist even after repeated assurance that he and is vice will not benefit from the proposed arrangement . Without equivocation good governance has remained a critical challenge in Nigeria since independence and Jonathan has shown great passion to re-write the history by demonstrating sense of commitment and sincerity to national issues since assuming office . Though the president refused to toe the path of his predecessor Shehu Yaraua 7 point agenda ,the body language of his priority area is power, employment ,education ,agriculture and roads.
It is high time Nigerians begin to see themselves as stake holders in the running of the country rather than exhibiting collective amnesia .Building of a country is and remain a collective effort of both the government and the governed The country seem to be in fix because whether we like or not it is extremely difficult to plan in situation of chaos no matter how attractive or robust a policy and the genuineness of the policy maker What we have witnessed is an orchestrated attempt to frustrate whatever plans and intentions the government has in its attempt to breathe new life into the Nigerian state . While the rest of the world are synergizing and reaping from cooperative economic advantages Nigeria has receded to primitive war of attrition and banditry In an atmosphere of anarchy no foreign or local investor or even entrepreneurs will contemplate staking his fortune in that country.
Investors will always go to the place where there is a predictable political climate. Government has been upbeat on diversifying the economy by encouraging the exploration in the non oil sector such as tourism taking into cognizance of abundant tourism cites and rich culture that abound in the country but the fact remain that no tourist will contemplate sojourning in volatile country The recent bombing of the United Nations office in Nigeria send a dangerous signal to the international community that the country is not safe for both tourism and investment and one cannot talk of creating jobs without robust private sector driven investment .The spate of bombing in the country is an assault on the sensibility of Nigerians and a sure recipe for anarchy.
The purpose of every government apart from security is to provide the needed critical infrastructures that will leverage on the private sectors to unleash their latent potentials needed for development .We should forget our political differences and religious divide and work toward building a new society out of the rubbles of decay Most of the Nigerian problems today are largely caused by the so called elites who through their access to state resources though primitive accumulation recruit unsuspecting jobless youths to commit nefarious crime to stampede the government to negotiate with them so as to continue the pillaging of the state resources This they successfully do through fanning the ember of ethnic hate and religious divide Since assuming of office Jonathan has not have the time to govern the country but rather has been trying to maneuver one boopy trap or the other.
Written By Ifeanyi Nwabugu
[email protected]

Disclaimer:

"The views/contents expressed in this article are the sole responsibility of

thewillnigeria.com

and do not necessarily reflect those of The Nigerian Voice. The Nigerian Voice will not be responsible or liable for any inaccurate or incorrect statements contained in this article."
Articles by thewillnigeria.com