Nasdaq Up 1 Percent As Stocks Rally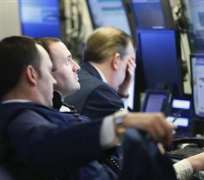 Stocks extended early gains on Tuesday, with the Nasdaq Composite briefly up 1 percent as traders hoped for central bank stimulus measures ahead of the Federal Reserve's two-day policy meeting.
The Dow Jones industrial average rose 79.69 points, or 0.63 percent, to 12,821.51. The S&P 500 Index gained 10.60 points, or 0.79 percent, to 1,355.38. The Nasdaq Composite added 26.78 points, or 0.92 percent, to 2,922.11.
REUTERS