Grown and Sexy - London's Top Eligible Bachelor, Oris Erhuero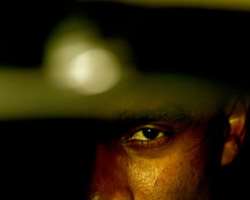 London's top eligible bachelor, Oris Erhuero, traveled aboard to capture the premier of the film, Moloch Tropical. Once young, now grown, the Dark Prince of Hollywood, Oris Erhuero, is demonstrating to the world that opportunities are limitless. His philosophy is as follows, "Do not be bound nor defeated by ignorance, and open your arms widely to embrace change. Besides contemplating a plan, action is required." When Mr. Erhuero speaks, many listen in silence. He is considered to be an inspiration and motivator for many.
After Oris Erheuro recently attended the screening for Moloch Tropical at the Toronto International Film Festival (TIFF), for his remarkably unique and dynamic role; Mr. Erhuero has been sought after by many talent scouts nationwide. Moloch Tropical was filmed by the renowned, multi-awarding winning, Haitian director, Raoul Peck. Mr. Peck clearly demonstrates his remarkable and unprecedented talent, in all aspects in his newest film release. Moloch Tropical was a highly anticipated film by movie critics worldwide, which premiered at the opening of the TIFF. Mr. Peck validates his genius edge by consistently producing liberal films that captivate the hearts and minds of the audience. Mr. Peck is well-known for freely expressing his passion for films by placing emphasis on creativity, vivid cinematography, and commemorative story plots. Moloch Tropical is a very powerful and influential film that depicts nepotism and turmoil in the political regime. This film is highly and strongly recommended to film connoisseurs for viewing and purchasing.
From Hollywood to Nollywood, Oris Erhuero, stars in the upcoming release of a Nollywood production, Hurricane in the Rose Garden. Official release date is October 20, 2009. Hurricane in the Rose Garden is a film that focuses on a typical married couple's life that becomes suddenly altered when the husband's mother pays an unexpected visit, to her son. Unfortunately, she does not come alone but brings her overbearing son with her. Together, they bring their cultural views and traditions into her married son's life and home. Experience the joy, love, and sorrow of life expressed within itself in this dramatic comedy.
Mesmerizing audiences worldwide, Oris Erhuero, is more than a mere household name. Why, may you ask? Mr. Erhuero focuses himself on his career and spiritual life journey. His long sought out quest for spirituality, ended when he began practicing Nichiren Buddhism. At last, Mr. Erhuero finds himself to be content and happy with life, and being privileged for the opportunities of being able to share his life openly with others. Over the past few years, his career has grown from on the screen action, to behind the screen action. Mr. Erhuero has transformed his entertainment industry knowledge and experience into his film company, Myoho Films. His film company is primarily based out of San Francisco, CA with a remote office in London, UK. The San Francisco Office is headed by his Business Associate and US Managing Agent, Cynthia Lee. Her business savvy skill set is impeccable and surreal. A woman who wears many hats, Ms. Lee is highly capable of multi-tasking day-to-day operations in Myoho Films, while co-owning and operating a fitness facility. Ambitious and passionate for life itself are core principles that strengthen and fulfill her life journey. Myoho Films is a full service production company, which premise is based upon uniting the global generational gap of diversified talents. Myoho Films is expected to begin filming projects early next year.
The life of Oris Erhuero is still in production. A new chapter is created daily. Success is measured by the successor, not by the opinions of others. Mr. Erhuero continues to strive forward unselfishly, being more successful than the day prior, and all for the benefits of others.
Development / Ghana / Africa / Modernghana.com