DANA AIR CRASH: CONSIDER THESE TRUTHS.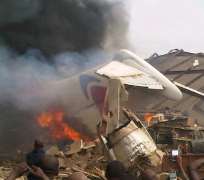 I have already submitted many write-ups in this regard. Check both my face book and the Nigerian Voice. Three issues are salient which addenda to my earlier submissions are:
- The Harold Demuren - infested angle
- The management of Dana Air- ultra-corrupt side
- The First Lady side.
HAROLD DEMUREN
Engineer Harold Demuren is a both USSR and USA trained Aeronautics Engineer. He knows the job. He started very well in 1976. He instituted great checks against corruption-infested Nigerian Airways. He is the Managing Director, Nigerian Civil Aviation Authority (NCAA) which registered and regulated Dana Air that crashed. Demuren cannot deny that he never knew the plane was not flyable due to engine failure or any other. There were series of complaints. The bug that corrupted Nigerian Airways or NCAA generally before his appointment has both eclipsed and infested him. He appears to be corruption –made flesh presently. How come Demuren authorized Dana Air plane that was known to be terribly bad, waiting for repairs to fly? How come? Tell me 1 ½ reasons why Demuren is not a murderer and should not be jailed?
Stella Oduah as the Aviation Minister is partly culpable. But her culpability is very light comparable to Demuren whose duty squarely authorizes any plane to either fly or not. Demuren was known (not is known) to be very strict when it came to air safety. It was one of the reasons why he was forced to retire in August 1995. How come that Demuren was so highly corrupted between 2005 and 2012 that he allows coffins to be flying in the air? How could we blame Aviation Minister if not she is overall person? Would she do the job of Demuren? Is she a specialist in Aviation Technology? Why blame her? But she could have warned Demuren of registering clearly very, very old planes to be flying Nigerian Airspace. In this way, the crush could have been averted. So, she has questions to answer. She said ''engine failure was the cause''. Dana Air Management said ''engine failure was not the cause''. The pilot warned of engine failure. Both engines could have packed up which though is rare in aviation technology except the fuel is contaminated. Was the aviation fuel contaminated? We do not know. In case one engine packed up, the alternative pilot was to switch off the bad engine and simultaneously switch on the good one. However, in a panicky situation, the co-pilot can switch off the bad engine and switch it on again supposing to have switched on the good one. This is another possibility. In that case, the plane fell as motion ceased. Let us suppose that both engines failed. It means that aviation fuel was clearly contaminated. Then the pilot could have forced his way to land and missed the controller's direction. But the controller did not reply him. That was the problem. What informed the controller not to reply the pilot's distress call? That is the big question. Let us look at the age of Nigerian Domestic Air crafts.
| | | | |
| --- | --- | --- | --- |
| S/N | Air line | No in Fleet | Youngest Plane in Fleet |
| 1. | Dana Contractors | 4 | 20.9 years |
| 2. | Aero Contractors | 9 | 20.2 years |
| 3. | Air Nigeria | 12 | 12.6 years |
| 4. | Arik Air | 20 | 4.2 years |
| 5. | Chanchangi Airlines | 4 | 22.9 years |
| 6. | First Nation (Belleview Airline) | 3 | 17.7 years |
| 7. | ITS Air Lines | 4 | 22.3 years |
| 8. | Kabo Air | 7 | 24.5 years |
| 9. | Overland Airways | 5 | 18.7 years |
| 10. | Max Air | 4 | 23.8 years |
| 11. | Niger Government | 1 | 34.1 years |
| 12. | Top Brass Aviation | 5 | 6.7 years |
| 13. | Wings Aviation | 2 | 34.2 years |
Princess Stella Odua should not have appended her signature to register any plane more than five (5) years. Only Arik Air is qualified to fly over Nigerian Airspace. Odua should have stamped her feet on ground to achieve this for Nigeria. But she compromised her integrity by registering about 22 year old Dana Air plane and about 200 people died. Which one is better?
Arik Air only should be allowed to fly over Nigerian Domestic Airspace. Only when others provide new planes should their licenses re-revoked. Nigeria should stop being a dumping ground for unflyable, obsolete and archaic planes. Obasanjo is the owner of Arik Air. It is not bad. But Obasanjo must be made to renounce his membership of Ogboni Confraternity (if he is a member) before re-permitting Arik Air to fly. This is because all Ogboni people are blood suckers, and so, killers cum murderers.
MANAGEMENT OF DANA AIR
Management of Dana Air brought in planes that are by far above 20 years, what they cannot do in their home country of India. They denied that the crash was caused by engine failure. What caused it then? The two engines failed which prompted the pilot to be repeatedly announcing ''emergency, emergency, emergency…..'': he needed to come down immediately. He was shouting this to the Air Controller at the tarmac, who refused to reply Why did the Air Controller refuse clearing the pilot for landing even when he was reporting emergency?
That ushers in the most critical of all the points: First Lady's Connection.
THE FIRST LADY SIDE
Nigerian First Lady – Dame Patience Ibifaka Goodluck Jonathan was in Lagos by 3.43pm when the hell brake loose. She suspended everything she came to do and probably rushed to the sight. So, on her own, she couldn't have caused the crash. Let us please exonerate her. But was she enjoying the privilege of a satanic law? Why must satanic law be allowed to be operational in Nigeria?
Recall that she was not to be blamed. She did not directly cause the accident. But the Air Traffic Controller could have shut the Airspace to respect Her Excellency's presence in Lagos at the vantage moment. The onus of proof lies squarely on the Air Traffic controller as to why he did not heed the emergency call to land by the pilot, disregarding the substing satanic law to save life first. Why on earth, did he not clear the pilot to land to save life? If the law was subsisting at the time, why on earth did Abuja controller authorize him to take off at the first instance? Here again is the work of Demuren.
As for both engines, they completely packed up mid air which prompted the pilot to register emergency 11 miles up, wanted to land immediately. But the Air controller seemed to be respecting a subsisting law of satan, rather than clearing him for immediate landing: the plane crashed.
That was what could have happened.
Let all the following people keep lying about what truly happened:
Lagos Air Traffic Controller,
Management of Dana Air and
Harold Demuren the NCAA M.D.
Disclaimer:

"The views/contents expressed in this article are the sole responsibility of

Kindness Innocent Jonah

and do not necessarily reflect those of The Nigerian Voice. The Nigerian Voice will not be responsible or liable for any inaccurate or incorrect statements contained in this article."
Articles by Kindness Innocent Jonah