Sellas Tetteh's hard road to fame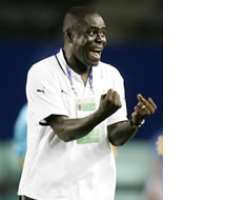 Sellas Tetteh: Under most circumstances he remained calm
Taciturn Coach Sellas Tetteh Teivi of the victorious FIFA Under-20 World Cup team, the Black Satellites, has, for once, departed from his reserved posture to talk about some of his accomplishments in his career which spans over 10 years of dedicated service and commitment to the national cause.
Sellas, also known as Borbor (a Yuroba expression which means Charlie) by his admirers, said the recent success at the FIFA Under-20 World Cup hosted by Egypt made him the first African coach to win laurels in football at that level of world competition.
According to Sellas, who had a chat with The Mirror at his residence at the Old Barrier on the Accra-Kasoa road last Wednesday, he was also the only Ghanaian coach who had consistently been in the system of coaching the national teams for 10 years and had been to the World Cup at all levels of international competition: Under l7, Under 20 and the senior level.
According to the coach of the moment, his only regret in life was his inability to play for any of the national teams during his days as a footballer.
Sellas played for Accra Hearts of Oak and Zebi FC, along with others such as Hesse Odamtten, Anas Seidu, Mac Eben Thompson (Nii Noi Thompson), Kingston Asabre, Dan Tettevi, Bobby Ansah, Nii Adu Sackey, Kwesi Adzrah (Awui), Eric Okoe Matey, among others.
However, he takes consolation from the fact that what he had not been able to do as a footballer, he had done it now and gave thanks to God for that honour to serve his Motherland.
Sellas, who is still basking in the glory of that enviable feat, maintained that "it was not easy accomplishing this epic dream. I knew the task ahead of me and worked hard towards it. My experience in Nigeria as a footballer under good coaches helped me a lot"
Additionally, he said he had worked with (Liberty Professionals, for him arguably one of the best in the country at the moment.
"The good managerial skills exhibited at that level were key and I was in the good 1 hands of my good friend and play mate Alhaji Sly Tetteh, the founder of the club, and Mr Felix Amoah Ansong, the chairman," he added.
Commenting on his reaction when the Satellites defender, Daniel Addo, was red-carded, Sellas acknowledged the fact that he had over-reacted.
He said personally he had gone through that experience and so whenever it happened he did not get tensed up but rather concentrated and focused on the game.
He said the red card shown to Addo was uncalled for, adding that, moments after that incident, he only shifted a midfielder backwards and kept the balance and shape of the team.
He said he usually suppressed his emotions and that he felt mentally happy when things were good and remained as such when things got rough.
He said under most circumstances he remained calm.
Sellas, the Adabraka-born from - La, Accra, and started playing football as a schemer at the colts level with Great Mao Mao. He later joined the Golden Pods of Koforidua and then left for Nigeria in 1979.
While in Nigeria, he played for various clubs at various times and returned to join Hearts in 1983 after over a million Ghanaians had been expelled from that country that year. Among the teams he played for while in Nigeria were the African Continental Bank, Bendel United (1991), Inwanyawu FC (1994) and Julius Berger for six seasons.
Before then he had travelled to Bangladesh to play professional football and later returned to Nigeria. He ended his soccer career with Inwanyawu FC in 1995.
Sellas returned to Ghana immediately and started his coaching career with Kotobabi Powerlines, then owned by Yaw La Danso, whom he said helped him in developing his career.
He said while at Powerlines, he helped the team to move from third division to second division before parting ways with it to join Dansoman-based Liberty Professionals in 1996.
Sellas, by dint of hard work, qualified the team from second division to the first I division in 1996 and helped it to gain promotion into the Premiership in 1999.
He said Baffour Gyan and the current Liberty coach, George Lamptey, were some of the boys he handled at that early stage of his association with Liberty.
Later on he nurtured players such as Michael Essien, Asamoah Gyan, John Paintsil, Derek Boateng, William Amamoo, Emmanuel Pappoe, Addoquaye Pappoe, William Tiero, Kwadwo Asamoah and Kwame Frimpong, all products of Liberty Professionals, into world-class stars.
According to Sellas, he was drafted to assist Coach Oti Akenteng, who was then in charge of the national Under-17 side, the Black Starlets, in 2001. He took full responsibility for the team in 2002 and handled current national team players such as Prince Tagoe, Eric Bekoe, Bawa Mumuni and Anthony Annan.
In 2003, he was promoted to the national Under-23 team and the Black Stars under Coach Ralph Zumdich as assistant coach.
Apart from these, Sellas also worked under various foreign coaches who handled the Black Stars - Mariano Barreto, Ratomir Dujkovich and Claude de Roy and had served as a stop gap coach a number of times.
He also handled the Black Stars in their Africa Cup World Cup 2010 preliminary campaign.
Before he was re-assigned to the Black Satellites, he had taken the Black Starlets to the World Cup in Korea.
With the Black Satellites, he won gold at the WAFU level, gold in Rwanda, in addition to the current world conquest.
Sellas, born on December 12, 1956 to the late Mensah Teivi, an auto mechanic, and Madam Elizabeth Dablah, a trader, is the first of eight siblings born to his parents.
He started school at the All Saints Anglican Primary School at Adabraka and continued at the Bishop Boys' Middle School at Bubiashie, both in Accra. He continued at the Royal Technical College at Nungua and trained as an auto mechanic.
He is married to Elizabeth Idun Teivi, a principal secretary at the Ministry of Defence, Burma Camp. They have two children, Precious Awefa Teivi and Prince Kelvin Sowah Teivi.
The indomitable coach said his children were dear to him because it took him more than 12 years of hard work to have them. As a result, anytime he went to the stadium on official assignments he went with them.
It is his expectation that his son, Prince, becomes a footballer.
He said anytime his team did well, his wife and children, who are ardent soccer fans, congratulated him.
He said sometimes his family suggested to him what he should say to players who, in their view, caused blunders.
A highly religious man, Sellas was a deacon at his previous church, the Christian Evangelical Ministry at Pig Farm, but now he worships with the Mandela branch of the International Central Gospel Church.
Source: The Mirror