PDP Wins All 31 Chairmanship Seats In Akwa Ibom LG Elections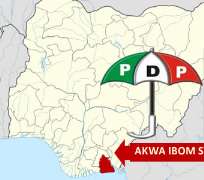 UYO, June 09, (THEWILL) – The Peoples Democratic Party (PDP) has emerged winner of all 31 seats up for grabs in Saturday's local government election conducted in Akwa Ibom State.
Chairman of the state's electoral body, the Akwa Ibom State Independent Electoral Commission (AKISIEC), Mrs. Glory Ukpong, presenting a summary of the election result before journalists in Uyo on Sunday, disclosed that the ruling party equally won councillorship seats in 27 local government areas, while ACN, UNDP and ANPP won in the remaining four.
Chairmanship elections held in only 22 out of 31 LGAs while councillorship elections held in 164 wards out of over 300 in the state. In the remaining nine LGAs and over 146 wards, there were consensus candidates, meaning the candidates only needed to be returned by the Commission. Eighteen political parties filed their candidates and participated in the June 9th election.
Declaring PDP winner in the exercise, Mrs. Ukpong noted that the election was credible beyond doubts, as it was free, fair and violence-free more than 90 per cent of the polling units.