Forex Dealer Jailed Over N300m Scam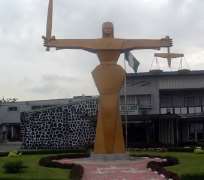 KADUNA, June 08, (THEWILL) - A 36-year old foreign exchange dealer, Ibrahim Mohammed Bashir has been sentenced to one year in prison by a Kaduna Federal High Court over charges of money laundering.
Justice M.L. Shuaibu found Bashir guilty of the three-count charge bordering on conspiracy and money laundering to the tune of N3million. He was accused of conspiring with three other persons to conceal the genuine origin and ownership of the sum of N3million, allegedly part of funds illegally transferred from an account in one of the new generation banks.
Investigations showed that Bashir was a third-party suspect in a fraudulent transaction involving some officials and customers of the bank. On March 3, 2007, there was an attempt to defraud a new generation bank of the sum of N409, 728, 106.83 through the use of cheques of three managers drawn in favour of the Federal High Court; UBA Global Market and UBA/Transcorp respectively.
The cheques were liquidated into three customers' accounts (Ezeco Engineering, Wale Omotosho and Abdullahi Brothers Nigeria Limited). Some of the funds were later transferred into other accounts, including Bashir's account with the Allen Avenue, Lagos branch of the bank.
A total sum of N300, 000,000 was transferred into Bashir's account. The fraud was perpetrated using the password of two staff of the bank.
In his statement, Bashir claimed that the N300m paid into his account from Ezeco Enigineering Limited, allegedly by one Mr. Yusuf and Masauda, was to enable him sell US Dollars to the customer.
However, in arguing the three-count charge brought against him by the EFCC pursuant to Section 17(a) and 14(1) (b) of the Money Laundering (Prohibition) Act 2004 and punishable under Section 14 (1) of the same Act, three witnesses were called in and series of exhibits were tendered.
At the close of the prosecution's case, the accused persons brought a no-case submission, which the EFCC responded to. However, Justice Shuaibu discharged Nuhu, the first accused person, but ordered Bashir to open his defence. On May 16th, 2012 Justice Shuaibu finally delivered his judgment, and convicted the accused as charged. Apart from the one-year jail term, which takes effect from May 16, 2012, Bashir is to forfeit the sum of N300m to the Federal Government.
Similarly, another fraudster, Churchill Joshua Essien, was sentenced to four years imprisonment by Justice Shuaibu. Essien was arraigned on a six-count charge of possessing documents containing false pretence and which bordered on advance fee fraud.
The case went through full trial and Justice Shuaibu found him guilty as charged and sentenced to four years imprisonment on each count. The jail term is however to run concurrently.
Another fraudster, Chibuzo Ifeanyi, was sentenced to six years imprisonment by an Enugu State High Court, after Justice P.I. Enejere found him guilty of three-count charges of impersonation, conspiracy and obtaining by false pretences.
The EFCC also secured the conviction of a former deputy director in the Ministry of Agriculture, Sokoto state; Mr. Danlami Mohammed at a Sokoto State High Court presided over by Justice Duwale.
The court found him guilty of obtaining the sum of N6.5million from one Mr. John Adam under a false pretence that he had a tractor to sell to the complainant. He pleaded guilty to the charge but was sentenced to one year imprisonment. He is still being tried on another three-count charge bordering on abuse of office in the same court.