African Top Bankers Honoured At ADB Annual Meetings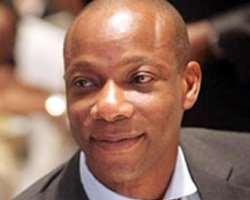 MD, GTBANK, SEGUN AGBAJE, SCOOPED THE PRIZE FOR AFRICAN BANKER OF THE YEAR AT THE 6TH EDITION OF THE AFRICAN BANKER AWARDS.
SAN FRANCISCO, May 30, (THEWILL) - Africa's top bankers gathered in Arusha, Tanzania, to celebrate the 6th edition of the African Banker Awards, under the patronage of the African Development Bank.
Olusegun Agbaje, Managing Director of Guaranty Trust Bank, Nigeria scooped the prize for African Banker of the year.
He was presented with his Trophy by Tim Turner, Director of the Private Sector Operations of the African Development Bank at the picturesque Frangipani Gardens, where the Awards ceremony took place. Ecobank beat tough competition posed by six other contestants in its category to come out on top as African Bank of the Year. The Bank was given particular credit for its continued expansion throughout Middle Africa as the pan African bank. Ecobank got a strong endorsement when South Africa's Public Investment Corporation officially signed the $250m investment agreement in the Group. 


The Best Regional Bank category named a winner from each of the five regions of Africa: Attijariwafa Bank, Morocco for North Africa; BGFI, Gabon for Central Africa; Bank of Kigali, Rwanda for East Africa; Access Bank, Nigeria for West Africa; and BCI, Mozambique for Southern Africa – thus highlighting Africa's diversity but strength as one continent. 


Arnold Ekpe, one of the most well recognised faces in the African banking community, was honoured with the Lifetime Achievement Award and received a standing ovation from the audience. Dr. Eleni Gabre-Mahdin, Founder and Managing Director of the Ethiopia Commodities Exchange follows in the footsteps of Ngozi Okonjo-Iweala and Adebayo Ogunlesi to win the African Banker Icon Award. 


This prestigious pan African evening was the biggest ever, with Hon. Mambury Njie, Minister of Finance for Gambia, Hon. John Rwangombwa, Minister of Finance for Rwanda, Dr Mustapha Kamel Nabli, Central Bank Governor for Tunisia, Professor Njuguna Ndung'u, Central Bank Governor for Kenya, Arunma Oteh, Director General of the Securities and Exchange Commission (SEC), Nigeria, and BBC World News presenter, Zeinab Badawi among the guests in attendance. 


Commenting on the ceremony, Omar Ben Yedder, Publisher of African Banker said, "We have recognised some superb individuals and institutions tonight. Africa's financial sector is a major vehicle for driving the economic growth that has become the talk of the investor community around the world. We have honoured individuals who are prepared to take the bull by the horn, to carry out well thought out visions and who have raised the bar and in some cases taken difficult decisions to deliver on their agenda.
Good examples are the Central Bank Governor of Tunisia and the Finance Minister of Guinea. The winners this year represent a good mix between francophone and Anglophone Africa, big and small countries. They reflect the achievements in banking and finance all over Africa."

The African Banker Awards are organised by African Banker magazine, IC Events and BusinessinAfrica Events. It is a landmark event that celebrates excellence and best practices in African banking and finance.
Mediterranean Smart Cards Company (MSCC) is the Platinum sponsor for this year's African Banker Awards. Other sponsors include Bank of Industry, Harland Financial Solutions, Ecobank Nedbank Alliance, Giesecke & Devrient, Air Charter Logistics, AfreximBank, Africa Re, Africa Finance Corporation, and the Tunisian based BIAT.
Winners
African Bank of the Year
Ecobank (ETI), Togo

African Banker of the Year
Olusegun Agbaje, Managing Director, Guaranty Trust Bank, Nigeria
Best Regional Bank in Africa
Attijariwafa Bank, Morocco - North Africa
BGFI, Gabon - Central Africa
Bank of Kigali, Rwanda - East Africa
Access Bank, Nigeria - West Africa
BCI, Mozambique - Southern Africa

Investment Bank of the Year
Renaissance Capital

Award for Innovation in Banking
Equity Bank, Kenya

Socially Responsible Bank of the Year
BMCE Bank Group, Morocco

Award for Financial Inclusion
Groupe Banque Populaire, Morocco

Deal of the Year
Jinchuan's Acquisition of Metorex - Standard Bank Group
Best Bond Deal
Republic of Senegal: Sovereign Bond Issue - Standard Chartered Bank
Investment Fund/Private Equity Fund of the Year
Citadel Capital, Egypt

Best Retail Bank in Africa
Coris Bank International, Burkina Faso

Central Bank Governor of the Year
HE Mustapha Kamel Nabli, Central Bank Governor, Tunisia
Finance Minister of the Year
HE Kerfalla Yansané, Minister of Finance, Guinea
Lifetime Achievement Award
Arnold Ekpe

African Banker Icon
Dr Eleni Gabre-Mahdin, Founder and CEO, Ethiopia Commodities Exchange.