I Have Not Anointed A Successor For 2015, Says Akpabio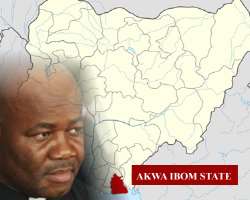 UYO, May 30, (THEWILL) – Insinuations that Governor Godswill Akpabio of Akwa Ibom State must, by now, have decided on which senatorial district to succeed him when his second term expires in 2015 were laid to rest Tuesday night, as the governor debunked claims that he has already anointed a successor.
There have been widespread speculations that Akpabio has directed his close aides and associates to close ranks and work for the success of a commissioner from Eket Senatorial District seen to be very loyal and trusted by the governor.
Akpabio cleared the air during the State Banquet to commemorate the 13th anniversary of the country's return to civil rule and Akpabio's 5th year in office as governor.
The governor said it was wrong for anyone to claim that he had anointed his successor, saying "people have asked me who my successor will be and I have told them that my successor in 2015 will be determined by you, the people."
According to him, instead of talking about limiting the contest to a
particular senatorial district, citizens of the state should all go out and look for the wise man that will have the vision to develop the state.
"Let's go out and look for a wise man that will have the vision of developing the state. Let us not look for my successor from the tribal perspective," he admonished
He said that although he would have loved to see a situation where Ikot Ekpene Senatorial District is excluded from the contest leaving Eket and Uyo Senatorial Districts to battle for the position, for healthy contest and in order to get the best, it would be good to see many aspirants contest the top job.
The governor noted that since 58 aspirants contested the primaries
which he won in 2007, there is nothing wrong with 158 coming out to contest in 2015.
"The choice of whoever will emerge as my successor will come through prayers of the people for God to bring a good person that will build on the legacies to be left behind by this administration," he said.
"We must ask ourselves what we want in 2015 and that is what will help us to pick out the best person, because in 2007, the people's will prevailed and God's will was done. I urge you to adopt the same principle in 2015 to determine who will lead the state."