BAYELSA NEW MEDIA TEAM, INAUGURATION/INDUCTION - SLATED FOR JUNE 23RD 2012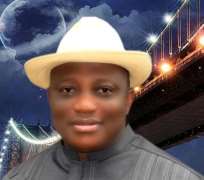 SOCIAL MEDIA ENGAGEMENT FOR FRIENDS, AND SUPPORTERS OF GOVERNOR HENRY SERIAKE DICKSON & HIS DEPUTY REAR ADMIRAL GBORIBIOGHA JOHN JONAH Rtd.
The office of the Senior Special Assistant to the Governor on Research & Social Media hereby presents the second list of SOCIAL MEDIA CHAMPIONS who supported Governor Henry Seriake Dickson & his Deputy Rear Admiral Gboribiogha John Jonah rtd on the New Media before, during & after the Elections.
Some of the names that appear on the list may not necessarily be supporters of the present administration but they constitute an indispensable segment of the New Media community. Recognizing the fact that no democracy can thrive without opposition, we have considered that listening to those dissenting voices will enable government properly articulate policies and programmes to reduce the margin of errors. It was John Galbraith who said many years ago that "Politics is the art of choosing between the disastrous and the unpalatable." In our candid opinion, those voices are necessary for the blossoming of good governance and participatory democracy. However, it is our hope and belief that the Bayelsa New Media Team will make constructive inputs into good governance in the State.
Those who participated at the Port Harcourt Social Media Engagement on May 2, 2012 – who were honoured are automatic members of the BAYELSA NEW MEDIA TEAM.
(1 ) COMRADE TIMI OLOMU
(2) MS. AGBAVWE ELOHOR DAISY.
(3) MS. MANDY OGAN ALIZIGHA.
(4) MS. MATILDA OSAIN.
(5) MS. ANITA ANGAYE.
(6) MR. EBIWIZZY BRASSBOY CAMERON.
(7) MR SAMUEL DORGU.
(8) MR SUNDAY FEKURUMOH
(9) MR. LAWAL AFRICAS.
(10) MR. FORTUNE GODSSON ALFRED
(11) ORLANDO IGOLO.M
(12) GREG ODUMO. M
(13) EDEIN-OUT KING PAUL.M
(14) MS. MAUREEN OKILO
(15) AKPOS AKOWE. M
(16) KARINA MATTHEW. F
(17) SYDNEY KEKEBHA. F
(18) FLORENCE CARIE OWUNARI. F
(19) KEMEKEDOUMENE TIMIDI. F
(20) PATRICIA AGAMA. F
(21. AJOKO EBI
(22) MRS. OGUN MAUREEN
(23) DOLCY BENWARRI
(24) ONDOTIMI AWUSE ROBINSON
(25) SONIA ETIFA
(26) BRANDON TONYE-ESELEMO
(27) VICTOR ISEREKE
(28) FRED BRISIBE
(29) BASIL UJOBOLO
(30) SYLVANUS PEREBOTARI
(31) EBIASUODE GODFREY MAC K
(32) RUTH OGIDIKPE
(33) TARE BOUBAI
(34) TIMI EBIDIGHI
(35) DISERE PUPRE DIDI
(36) MR. KIMIEBI IMOMOTIMI EBIENFA
(37) GARRY STANLEY ENETIMI-EBIFIDE
(38) EREKAKE DANIEL
(39) CUSTOM EBIERE
(40) TOKONI OKIYEFA.
(41). PREYE LADEI
(42). MR. DOUBRA PEREZ EKRIKA
(43) MS. VICKY TIMIDI
(44) MR. ALEX BINWARE MUKORO
(45) MS. KARINA ALAGOA
(46) MR. DARLINGTON TIMIPA OTOBO
(47) MS. ESTHER RICHARDS
(48) MR. PRINCE MIKE YOUGH
(49) MR. KOLUBOWEI ZIPAMO
(50) MERIT DISEYE ANOMIETE
(51) COMRADE ROBINSON EREBI
(52) MS. MARY BRIGGS
(53) MS. JULIET TRUST
(54) MR. TARIBIO EDOGHOTU
(55) MR. MIKE BEKE
(56) MR. ALAGOA MORRIS
(57) MS. LORRAINE DONGHAGBEYI
(58) MR. MICHAEL AGUNOYIE
(59) MS. ANNET DIEPREYE
(60) MR. MAYOMI ASUKU
(61) MR. ABRAHAM GOODHEAD
(62). MR. BARANAYE .B. JONAH
(63) MR. OGBOTITI PAYOLA PIUS
(64) MS. CATHERINE UMUKOROGHA
(65) MS. SOMINA HARRY
(66). DON AFORTUNADO IGBETA
(67). Mrs ASIERI BENSON CYNTHIA
(68). MS. BIOBELENE DANIEL
(69) MRS. (HON) HELEN BOB
(70) MR. OMUNGU PATRICK
(71) MR. OTONYE NELSON-EBIMIE
(72) MS. KARINA MATTHEW
(73) ALAFA INALA
(74) MR. PATRICK TAMARA
(75) MR. IKADERINYO FUROMFATE
(76) MR. KUMO GEORGE
(77) MR. GABRIEL JONAH
(78) MR. MONDAY GAMAGE
(79) MR. TERRY THOMAS
(80) MR. THOMAS LIVINGSTONE
(81) MS. BIYE IMBASI
(82) MRS. OJOKO
(83) MR. INIFIE O. IDE
(84) IBIRIMO I. IBIRIMO
(85) MARK IDUMANGE
(86) MS. RUBY I. NYANANYO
(87) COMRADE UTAVIE JEREMIAH WELLINGTON
(88) INIEMIEPRE OGUARA OGUARA
(89) AKPOS AKOWEI
(90) MS. MERCY MIPEN MIPEN
(91) MS. JAMES GILLOWEI
(92) MR. IDIBIYE DAVID
(93) MR. KOLA RICHARD
(94) MR. JACKSON KODEN
(95) MR. GODDAY EBUTU
(96) MR. ETULAN DOUGLAS
(97) MR. SAMUEL OFONGO
(98) MR. BEREDUGO LIVINGSTONE
(99) MR. AYERITE TUGUNIMIBOFA
(100) MR. OMARIKENE BHIENAMI
(101) MR. AKUMODOGIYO OLU
(102) MR. GODSPOWER BENAKIEGHA
103) MR. MAGREGOR EMMANUEL
(104) MR. OGBOSUOMOTE EDOGHOTU
(105) MR. KUROYE GINAH
(106) AKPOS AKOWEI
(107) ABEKI INEYEKI
(108) MR.JACOB AROGO
(109) MISS. QUEENETH PERRY
(110) MR.BARAKUMO ODEDE
(111) MR. VIOLET JACKREECE
(112) MR. ROBINSON JACK
(113) MR. FEJIRO BAKPA
(114) DANISON VICTOR. M
(115) MR. JASPER AZUATALAM
(116) KENNETH ATHEKAME
(117) MR. IZIBE ITORO
(118) MR. MIEBI ALBERT
(119) MR. UGOCHUKWU JUNIOR NWUKE
(120) MR. UNION OYANDOGHA
(121) MS. FAITH PYT AGINDOTON
(122) EKIYOR MARTINS ODI
(123) MRS. ANITA B. BENAKIEGHA
(124) MR. AUSTIN BEBARA
(125) PRINCE ORAFRE AMAEGBE
(126) MR. OWEIBI GODSPOWER TARE
(127) MR. EBIMO DANIEL
(128) MRS. EBIYE WADIRI PUMODEI
(129). MR. PETER OSALUMEN AIGBOGUN
(130) MR. OSARETIN DESMOND EDUWU
(131) MR. MOSES AIKHOJIE
(132) SIR. TONYE OKIO KSM
(133 MR. JACKSON KANU
(134) MR. BEN EBI OLOLO
(135). HALLY IRUKA OBIKWELU
(136). MR. TAM OTIS ZUOKUMOR
(137). MR. OSOMUVELE SORGWE
(138). MR. DESMOND PERE ERE
(139). MR. KALI GWEGWE
(140) MRS. LILIAN C. PARKE
(141). PRINCE GIFT FEIZIGHA
(142). MR. MONDAY MACAULAY
(143) MR. ROBINSON AWUSE
(144) MR. ENIZE EZE TOMVIEW
(145) MR. GEORGE ADIONI SINCLAIR
(146) MS. EBIPAMO OTOKOLO
(147) MS. ANNASSUODEI OWEIKA ABILI
(148) ELIZABETH WHITE
(149) NJIDEKA EURPHY EZURIKE
(150) MR. JOHNNY JONATHAN
(151) MR. EBIKEFE PREMBOWEI FRANK
(152) KOLUBOWEI ZIPAMO
(153) LOVETH ENEI HARRY
(154) SARAH ALAMENE
(155) SOPHIA B. EGRAN
(156) DEPREYE W. EMMANUELA
(157) SUCCESS OWEIFA
(158) VIVIAN PREFA
(159) JOB MAKA
(160) ARC. DAVID AWASA
(161) MR. NYANATE S. DIKE
(162) IWE-EBIYA GEORGE
(163) ALLEN HOPE JONAH.
(164) STEVEN EBINEPRE AFEKAFE.
(165) TOMIPREYAYE JANE FRANK.E
(166) MR. NORMAN WILLIAMS
(167) MS. TIMIEBIERI PHILIP
(168) MR. CLAUD IRUOSOUMOYE N.
(169) MR. DIALA EMMANUEL
(170) MR. GELEGUKUMA FEGHABO
(171) MS. MAKPAH TARIERE JOSEPHINE
(172) MR. KEME AMBAIOWEI
(173) MS. TIMIPERE BRADOUYAI VIVIAN
(174) MRS. ATUA MARUABIA OSAIN INKO-TARIAH
(175) MR. AMBROSE ONYEKA
(176) PRINCE JOSHUA OVOH
(177) GOSPEL ELIJAH
(178) PRINCESS ERADIRI
(179) ELUAN BOKOLO
(180) IRIGHA IRUO
(181) MRS. EBI OWEIDENMO
(182) COMRADE OLALEKAN IGE – EDITOR OF THE INDEPENDENT MONITOR NEWSPAPER
(183) COMRADE EMMANUEL EMEKE ASIWE – PUBLISHER OF HUHUONLINE.COM
(184) COMRADE ALLOY EJIMAKOR – PUBLISHER OF AFRICAN HERALD EXPRESS
(185) COMRADE KARL CHINEDU - POLITICAL EDITIOR OF THE BEACON NEWSPAPER
(186) COMRADE RICHARD OGBAGE – PUBLISHER OF THE SPYNET NEWSPAPER
(187) COMRADE SUNDAY ABIDI - PUBLISHER OPINION NEWSPAPER
(188) COMRADE INEGBEGHA MAJESTY - PUBLISHER OF GLOBAL OVERSEER NEWSPAPER
(189) COMRADE JONES ABIRI - PUBLISHER OF WEEKLY SOURCE NEWSPAPER
(190) COMRADE EBI OZEGBE - PUBLISHER OF DELIGHT NEWSPAPER
(191) MR. OGREGADE KELVIN
(192) CHIEF MICHAEL S. IGBODO,
(193) SPIFF ATTAI AUGUSTA
(194) MS. RUTH OGBOGI
(195) EBIWENI AGANABA,
(196) BIO RONICA IYABI
(197) MRS. TIMINIPERE ROBINSON-ERE
(198) MR. EBI SIKPI T
(199) MR. PRESIDOR GHOMORAI
(200) MRS. EUPHEMIA EKINE
PLEASE NOTE: THIS LIST IS FINAL, AS THE NEXT PHASE OF INDUCTION WILL BE IN OCTOBER, 2012
THE AWARD & INDUCTION CEREMONY WILL TAKE ON SATURDAY 23RD OF JUNE 2012 IN YENAGOA, BAYELSA STATE. PUBLISHERS AND ONLINE MEDIA PROPRIETORS ARE SPECIAL AWARDEES BECAUSE THEY PROMOTE OBJECTIVITY IN THE NEW MEDIA. THEY WILL AUTOMATICALLY BELONG TO THE ADVISORY COMMITTEE OF THE BAYELSA STATE NEW MEDIA TEAM. TWO WEEKS AFTER THE INAUGURATION, AN ELECTORAL COMMITTEE WILL BE SET UP TO ELECT MEMBERS OF THE CENTRAL COORDINATING COMMITTEE, (CCC) OF THE BAYELSA NEW MEDIA TEAM. ALREADY, COMMITTEES HAVE BEEN SET UP TO ENSURE THE SUCCESS OF THE INAUGURATION CEREMONY.
CONGRATULATIONS!
IDUMANGE John
SSA – RESEARCH & SOCIAL MEDIA
BAYELSA STATE
MAY 30TH, 2012