Oritsejafor Urges Christians To Unite Against Boko Haram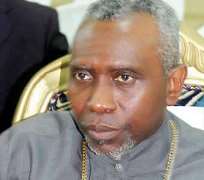 UYO, May 23, (THEWILL) - Christians nationwide have been charged to bond together in unity to combat efforts of the Boko Haram Islamist sect to exterminate their religion, following series of attacks in the North that have targeted innocent Christians.
National President of the Christian Association of Nigeria (CAN), Bishop Ayo Oritsejafor made the call on Wednesday during a reception in preparation for the Extra-Ordinary Council Meeting to be held in Ibom Hall grounds, in Uyo, the Akwa Ibom State capital.
According to the president, Christianity, before God, is one united organisation and only such unity can endow Christians with the needed strength to fight the ongoing unwarranted and unjust killings of their brothers.
Also, as one of the measures to combat the situation, Oritsejafor asked Christians to set aside 16th June 2012 as special day for intercessory prayers. He said he had received a text massage intimating him that door-to-door and shop-to-shop killings were ongoing in Borno State.
"The devil will not destroy Nigeria and for the fact that God sees the church and not blocks divided by denominations, the church can be, should be and must be united," he charged. "So I encourage all Christians to be their brothers' keeper by sticking closer to one another and praying for protection so that when the world would talk about Nigeria, they will also be able to say that there is a church in Nigeria."
Explaining the choice of Akwa Ibom over Abuja as the venue of the meeting, Oritsejafor said he rated the state very high, in terms of infrastructural development. He described Governor Akpabio as the metaphor for the Nigerian condition, a bride to the state and a governor whom the younger generation should seek direction from.
His words: "You are the metaphor for the Nigerian problem, a bride that has been handed down to the Nation and the one the future generation should depend on for direction."
In his reaction, Akwa Ibom State governor, Chief Godswill Akpabio charged CAN to rise to the challenge presented by the violent situation in the country, and exhibit true Christian values that would shed more light of truth into the devil-instigated darkness that has beclouded the peaceful coexistence of the nation through the Boko Haram sect.
He urged the religious body to deliberate and come up with policies that would enable it act as the good Samaritan to lift the nation from the dust of violence, shame and deadly threats; and restore it to its pride of place for the benefit of generations yet unborn.
He reaffirmed his commitment to the growth of CAN and announced that in addition to providing land for the state headquarters of the association, the state government had also made an initial cash donation of N50M for the take-off of the building project.