PHOTO: Rihanna Celebrating Chelsea's Victory With Drogba & Others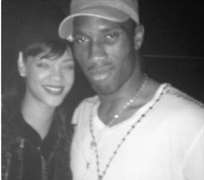 Rihanna who was at the London O2 for Jay-Z and Kanye West's Watch The Throne show on Saturday joined the Chelsea players at Bouji night club Kensington shortly after to celebrate their Champions League victory. It is being reported that she hunted the boys down and though they were surprised to see her, she bonded very well with them but mostly with Drogba.
Drogba on the other hand has announced that at the end of June, the 34year old will be leaving the club after eight years with them. He said
"'I wanted to put an end to all the speculation and confirm that I am leaving Chelsea. It has been a very difficult decision for me to make and I am very proud of what we have achieved but the time is right for a new challenge for me".
He leaves as the clubs fourth highest scorers of all times with 157 goals in 341 appearances.