Senate Backs Jonathan To Dialogue With Boko Haram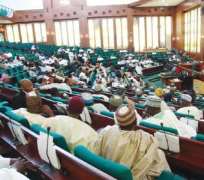 ABUJA, May 22, (THEWILL) - The Senate on Tuesday emerged from a prolonged closed session that lasted over two hours to consider the security reports of its joint committees that took briefs from the nation's security chiefs on recent Boko Haram attacks, with an unstated preference for negotiation with the sect.
The Senators who attended the unusual session kept sealed lips when it ended. But inside sources disclosed that the high point of the resolution was the backing given to President Goodluck Jonathan to go ahead and dialogue with the terror group.
They were also said to have asked the terrorists to sheath their sword and embrace dialogue as offered.
Chairman of the Senate Committee on Information, Senator Enyinnaya Abaribe, speaking at a briefing after the executive session, said that the resolution of the gathering would be transmitted directly to President Jonathan for necessary action.
He refused to give details of the report discussed, saying that it was classified as confidential, being a security issue, and as such should not be made public. However, he praised the progress of the work of security operatives on the matter.
"The Senate considered the report of the committees and was satisfied with their recommendations," he said. It was necessary to conceal the content of the report because of its security implications and the prevailing situation in the country."
He disclosed that the Senate was also satisfied with the federal government's handling of the fight against the insurgents.
"As I said before, the Senate is satisfied with the progress being made in the fight against the Boko Haram sect and against insecurity in the country."
The Joint Senate Security Panels, which were also asked to probe recent bombings in some parts of Kano state by the sect, it was gathered, similarly recommended dialogue, and this was said to have influenced the resolution made by senators at the closed session.
In a related development, president of the Senate, David Mark at a separate Tuesday event also urged the terrorists to embrace dialogue in the interest of national peace.