FG Unrelenting In Fight Against Boko Haram, Says Tambuwal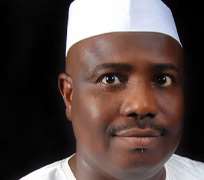 ABUJA, May 21, (THEWILL) - The federal government will continue to improve on its efforts to end Boko Haram insurgency and other security challenges bedeviling the country, Speaker of the House of Representatives Hon Aminu Waziri Tambuwal, has said.
Speaking in Johannesburg on Monday at the opening of the seventh session of the Pan-African Parliament (PAP), Tambuwal expressed optimism that recent security breaches will only serve to bring Nigerians together and strengthen their resolve to build a united country.
He commended efforts of other African countries and other friends of the country in helping the country achieve lasting peace. "The government of Nigeria, under the leadership of President Goodluck Jonathan, is doing everything possible to address the situation. Be rest assured that the people of Nigeria believe in the continued peaceful coexistence of one individual and indissoluble federal republic," he added.
Urging PAP to come up with solutions to end the myriad of problems facing the continent, Tambuwal asked the parliamentarians to pass clear resolutions to denounce military rule on the continent and insist that democratic principles are upheld to protect citizens from impunity.
"In order to achieve relative peace and security in Africa, heads of governments must endeavour to fight institutionalised corruption, create jobs to stem rising unemployment, and institute policies on poverty eradication and food security in Africa," he said. "Moreover, we must continue to improve the security situation in Africa and enhance the ability of law-enforcement agencies at various levels to discharge their duties."
He said that as a responsible and people-centred parliament, PAP must continue to abide by the rule of law and promote electoral transparency in elections. "We should note that the vision establishing the Pan-African Parliament is to provide a common platform for African peoples and their grassroots organisations to get more involved in discussions and in the decision-making process on the problems and challenges facing the continent.
"Fellow parliamentarians, permit me once again to say that the Parliament, under your leadership, has in no small manner significantly influenced the lives of our people and democratic institutions in Africa. I am convinced that this Parliament will not rest until our collective vision to have a Government of African Union is in place. We must also bend our thoughts towards the very deadly problem of terrorism, which is compounding Africa's problem;s and come up with a resolution on how to combat the activities of terrorists in the continent."
Tambuwal urged the body to also beam its focus on such problems as immigration policy, conflicts and many others.
"I wish to note that the raging problems of poverty, diseases, and hunger will continue to cause our leaders sleepless nights until they can find a means of integrating the continent and breaking all barriers to trade and movement, while instituting systems that reflect the aspiration of the people.
"Our history over the years has shown that we are people who have always found the strength and resilience to triumph over stupendous obstacles from slavery to colonialism, from apartheid and neo-colonialism to one-party systems and coup d'etats, and from civil wars and pogroms to starvation and diseases."