EDO PEOPLE WILL VOTE ON ISSUES, NOT ABUSE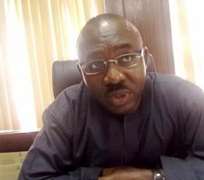 Against the backdrop of political violence in Edo State in recent time, Louis Odion, Edo Commissioner for Information fielded questions from a group of journalists. Excepts:
Lately, Edo politics seems to have assumed a violent dimension. Not being a politician but a technocrat in government, how have you been coping?
Well, we live in interesting times like the Chinese would say. For me, I consider it a rite of passage to finally bury the forces of darkness in Edo State. You are very correct to describe me as a technocrat and not a politician. As a journalist, I consider it a privilege to be part of this historic awakening. At the end of my tour of duty, of course, I would be  too glad to return to journalism.
*Odion
For me, ultimately, the biggest reward would be being counted among the Team Oshiomhole. In the last three and a half years, Comrade Adams Oshiomhole started a revolution in Edo State. Edo story has changed so dramatically within 42 months so much that there is almost now a consensus across the state that he should be given a second term come July 14. Of course, you don't expect those who had profited from the underdevelopment, the rot of the past, to give up without a fight. That explains the tension in Edo today. It is a contention between the forces of light as embodied by Oshiomhole and the forces of darkness Edo people now know too well.
You recently escaped attack by gunmen in Benin. Unfortunately, a colleague of yours, Olaitan Oyerinde, was not that lucky? How do you feel?
It is quite regrettable that what ought to be an occasion for healthy debate on how to grow Edo State has turned to a show of force and shedding of innocent blood. For instance, it is quite sad that in a space of one week, the state witnessed the deaths of three journalists in an attack on the governor's convoy and the gruesome murder of the Principal Private Secretary to the Governor, Comrade Olaitan Oyerinde. But it wasn't as if this chain of unfortunate events came as a big surprise.  Early last month, we had raised alarm that some political desperadoes had perfected a plot to foment trouble in the state. When we made the allegations, some people felt we were crying wolf where none existed. But it has taken the deaths of four promising young men for such people to now accept the truth in the points we were making.
As I speak to you, these political desperadoes are not relenting in their nefarious activities. We are aware that just few days ago they had another nocturnal meeting at the residence of a powerful politician in Abuja to review the events of the past three weeks in Edo .
We are aware that one of the resolutions they made that day is to sustain their current reign of terror by targeting more officials of  the Oshiomhole administration for elimination. We have turned some of the intelligence we gathered to relevant security agencies and can only hope that they take steps to act on such leads before it is too late. It is just unfortunate that some people will do anything to gain power. But believe me, the present contestation in Edo is between the forces of light and those of darkness.
It is a titanic battle between the forces of positive change, of progress as represented by Comrade Adams Oshiomhole and those who see the state as their private estate. You will recall that from the word go, we have always maintained that this electioneering campaign should be based on issues. Whatever agitation we make today,  always listen to the fine points.
Whereas  we demand the sanctity of the ballot through 'one man, one vote', our friends in opposition  do not seem to share that. We want clean politics and clean elections.
But our friends in opposition believe otherwise. Whereas we canvass issues and ideas to take the state to the next level, others would rather engage in the politics of name-calling and character assassination. Of course, that should be expected, because they have nothing to offer. Of course, the right-thinking people of Edo are not fooled.
They can see the party that means well and the one that is seeking an opportunity to return and loot the treasury as they did in the past. But the people are wiser now and more than ready to defend their birthright in the coming election.
There is this popular saying that anyone who was beaten by rain and found shelter is unlikely to willingly go back to the rain again. Within three and a half years, Edo people have found shelter through the selfless service Oshiomhole has rendered. The people can now see that the old tale that the state was poor and as such sentenced to poverty forever is false. Oshiomhole has proved that Edo State can work once there is a political will to do the right thing. So, the people are now resolved to hold their political destiny in their hands and put the political contractors whose specialty is looting of the treasury to shame by voting against them in the coming election.
As far as we are concerned, the battle is already won and lost. The question now is by what margin will ACN defeat PDP on July 14. For us, it will be a referendum by the people to endorse the massive reforms the Comrade Governor has unleashed in all ramifications in Edo.
Some people are of the opinion that Governor Oshiomhole's rhetorics in recent times are unduly combative. In fact, PDP in Edo has said that the governor is trying to incite the people against it. What is your comment?
I disagree with you. On the contrary, I think the Comrade Governor has been a moderating influence on our supporters in the face of unwarranted provocation. Take the day Comrade Olaitan was assassinated. You will recall that there was a spontaneous demonstration that morning once the news filtered around that a close aide of the governor had been gruesomely killed.
The governor had left for Abuja Thursday evening and was supposed to attend an official engagement Friday morning. He had to cut short his trip and rushed back to Benin and arrived early enough to meet the demonstrators marching through Benin streets.
Before Olaitan's assasination, a gang of four assassins had invaded my private residence. I was fortunate not to be at home around 2.30AM when they came. Then, five days later, a killer gang of four, presumably the same gang that came to my residence, got Olaitan at his residence and brutally killed him before his wife and kids.
This chain of hit and miss
es by the 4-man killer squad was clearly provocative, especially considering that despite being in power, Comrade Oshiomhole has never in any way oppressed members of the opposition. I tell you, without the Comrade Governor being physically present that day, it is doubtful if some of our supporters would not have vented their pent-up anger by attacking those they think are behind these acts of provocation. So, I think Oshiomhole deserves praise for showing a lot of maturity in the face of sheer provocation.
Right from the word go, ACN has stated that the electioneering campaign should be based on issues, you have to tell people what you have done within the period you were entrusted with power. ACN never bargained for nor canvassed violence. In our peculiar political environment, the norm is that it is the opposition that will be at the receiving end. But the big irony in Edo today is that it is the government in power that is at the receiving end of violence.
If I may ask, what exactly are the issues of the ongoing electioneering campaigns in Edo State?
For us in the ACN, it is very simple.  We ask the people to look at the score-card. PDP was in power between 1999 and 2008. ACN has only been in power for three and half years. Now, we challenge PDP to show Edo people what they were able to achieve in 10 years. Of course, there is absolutely nothing except the stock of the crooked godfather that has grown in leaps and bound while Edo people were impoverished. But within 42 months, Oshiomhole has built more than 600 kilometres of brand new roads, created more than 25,000 direct jobs, rebuilt more than 500 classroom blocks, sunk hundreds of industrial boreholes to give portable water to the communities. I can go on and on. So we say if we could de
liver this much within three and a half years, if you trust Oshiomhole with another term of office, in another four years, you will be talking of harvest of double fold.
We have been tested. We have proven our mettle. We want our mandate renewed so that we can take Edo to the next level. In a nutshell, that is the central message of our campaign.
But to the robust score-card that we parade, PDP's report sheet is full of red ink. Since they can't engage us at that level, they now try to ethnicize the contest by seeking to play the Bini against ethnic stocks.
But the Esogban of Bini Kingdom who should know answered them succinctly last month at the palace of the Oba of Benin. In declaring Oshiomhole the Bini candidate, he said it has taken an Etstako man less than four years to repair the damage a Bini man did for eight years. I tell you even General Charles Airhiavbere who is being touted Bini candidate by Chief Tony Anenih was rejected by the Bini bloc within the PDP in the primaries on February 25. Out of seven local governments in Edo South, the General was defeated in four. Does that show someone who is popular? Of course, the godfather rigged him in the primaries so transparently.
If you listen carefully lately, you must have heard the phrase 'new PDP' in jingles in the airwaves of Edo State . Which presupposes that at last, PDP is admitting that it had betrayed Edo people in the past. But the question to ask is this: when you call yourself brand new, what exactly do you mean? What really has changed? Can a leopard ever change its spot? Of course, the answer is a capital no. Chief Anenih was the godfather of the old discredited, leprous PDP. Today, he is still the sole proprietor of the so-called 'brand new' Edo PDP, deploying old tactics to achieve nefarious outcome.
The old PDP was notorious for rigging. The same rigging was witnessed in the last PDP primaries in Benin City so much that Chief Anenih and his rigging brigade had to be rushed out through the back gate to escape the wrath of party men who couldn't understand why an old man would not respect his age and preside over such blatant electoral robbery in broad daylight. So, to tell the truth, nothing has changed in PDP.Loius odion