US May Brand Boko Haram As 'Terrorist Group'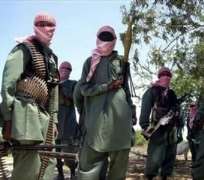 SAN FRANCISCO, May 18, (THEWILL) - The US State Department is under pressure from the Justice Department to designate Nigeria's Islamic fundamentalist sect, the Boko Haram, as a "foreign terrorist organiastion."
Boko Haram has been masterminding series of bomb and gun attacks primarily in northern Nigeria, in its bid exterminate all forms of western education, and enthrone Islamic law of Sharia as the universal law in the country's multi-religious population.
Lisa Monaco, head of the national security division of the Justice Department in January wrote to State Department counter-terrorism chief, Daniel Benjamin, to request the enlistment of Boko Haram, also known as the 'Nigerian Taliban,' among other terrorist groups.
State Department representatives are reported to have spent the week lobbying Congress to stop legislation that would force the administration to act against the group or explain why they had not done so.
Also, Rep. Patrick Meehan, chairman of House subcommittee on Homeland Security, introduced an amendment to a defence bill questioning why State officials cancelled a briefing on Boko Haram.
He argued that in many cases, including that of the Nigerian 'underwear bomber,' the United States has waited too long to designate a group as terrorists.
"Only later, after they've committed terrible acts have we put them on the list of foreign terrorists," Meehan said. "To not have the capacity that it gives law enforcement to both monitor and to hold people who give material support to an organisation like that, puts us at a disadvantage."
Chairman of the House Intelligence Committee, Mike Rogers, shared Meehan's thoughts, saying, "Boko Haram claimed credit for the suicide bombing of the U.N. headquarters in Abuja, Nigeria, killing 23 people and injuring more than 80 others. That meets my definition of a terrorist group, but if the administration has a reason why they don't want to designate them, I would like to hear it."
Assistant Attorney General Monaco's letter expressed belief that Boko Haram qualifies for a foreign terrorist listing, having been involved in terrorism which threatens the United States or has a capability or intent to do so.
Listing some of the deadly attacks that the sect has masterminded since 2010, Monaco warned U.S. not underestimate the threat of the group to U.S. Interests, simply because all their attacks have been carried out within Nigeria. She also claimed that the group maintains links with transnational terrorist groups, while it has also "openly espoused violence against the West."