Stocks Futures Rise, Markets To Close Worst Week Of Year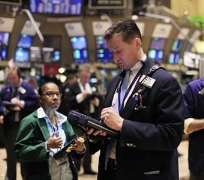 Stock index futures edged up on Friday but major indexes were setting up to close their worst week of the year, while Facebook's debut could help lift battered investor sentiment.
The S&P has fallen 6.7 percent so far in May, and while volatility is expected to continue, some analysts were forecasting a near-term rebound.
Investors are bracing for Facebook's Wall Street debut after the world's No. 1 online social network raised about $16 billion in one of the biggest initial public offerings in U.S. history. Facebook priced its offering at $38 a share on Thursday, and shares are expected to begin trading under the FB symbol on Nasdaq at around 11 a.m. EDT.
The large weekly decline in equities came amid uncertainty over a political crisis in Greece and whether that could trigger a default and possible exit from the euro zone.
Market participants were skittish even as a poll showed Greek voters are returning to the establishment parties that negotiated its bailout, offering some respite to European leaders who say a snap Greek election next month will decide whether it must quit the euro.
"Even good news is not enough to overcome the fear that there is going to be a dramatic slowdown in the world economy because of the European crisis," said Rick Meckler, president of investment firm LibertyView Capital Management in New York.
"Today, Facebook trading up would be a good start," he said, adding that a decline below the IPO price "could be a big negative for the market."
S&P 500 futures rose 7.7 points and were above fair value, a formula that evaluates pricing by taking into account interest rates, dividends and time to expiration on the contract. Dow Jones industrial average futures rose 59 points, and Nasdaq 100 futures added 12 points.
The cost to insure Spanish government debt against default hit record highs Friday, a day after Moody's cut its rating on Spanish banks en masse, heightening fears of contagion from the Greek political crisis.
Spanish government-run Bankia (BKIA.MC) shares, up more than 20 percent on the day but still down 33 percent this month, led a rebound in Spanish banking stocks as traders closed short positions. U.S.-traded shares of Banco Santander (STD.N) and BBVA (BBVA.N) rose near 5 percent in light premarket trading.
U.S. stocks hit a four-month low on Thursday as another round of weak data undermined hopes for a U.S. economic recovery, and as rising Spanish bond yields increased investor anxiety over the European nation's banks.
REUTERS